Heat Check: Why Norris Cole Makes the Miami Heat Completely Unstoppable
December 28, 2011
Mike Ehrmann/Getty Images
I am trying not to get too excited about rookie Norris Cole yet, but it is hard not to after the performance he put up last night.
In the season opener against the Dallas Mavericks, it was all about LeBron James and Dwyane Wade. The two combined for 63 points and helped Miami open up a dominating 35-point lead over the defending NBA Finals Champions. With many of the starters not playing in the fourth quarter, Dallas was able to make the loss look slightly respectable, eventually falling 105-94.
The final score though, does not indicate the massacre that took place in Dallas on Christmas. The Heat were completely unstoppable. They could not be stopped on the offensive end, and they shut down Dallas on the defensive end. They showed that they are not all about the flashy highlight reel dunks, but that they are a team that shows up and plays a 48 minute game of hard-nosed defense. They showed that no one was going to stop them this season.
After the Christmas Day beatdown in Dallas, Miami arrived for their home opener last night against Boston. Things looked very similar. At halftime Miami was up 69-54. It was apparent that another blowout was about to happen, but Boston continued to fight.
The Celtics were only down by eight going into the fourth quarter, and even cut the lead down to three with two minutes left, but that was as close as they could get. A young man from Ohio just kept knocking down shots, and he just would not stop.
LeBron James? Not quite.
With the game down to its final moments last night, the Miami Heat had three of the best players in the NBA on the floor. Combined they had 20 All-Star appearances, five Olympic medals, 17 All-NBA Teams, two scoring titles, two MVP awards and countless other awards and achievements.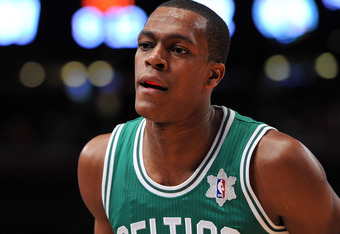 Christopher Pasatieri/Getty Images
None of them got the ball though. Instead it was a young 23-year-old who was in his second NBA game. A rookie from Cleveland State, who was the 28th pick in last year's NBA Draft.
His name is Norris Cole.
Cole scored 14 of his career high 20 points in the fourth quarter of last night's game. When Boston cut the lead to three points, Cole hit a huge jumper to put Miami back up by five. When Boston again cut the lead to three points, Cole responded with another clutch shot. Then, with Boston holding onto their last hope for victory, Cole stole a pass from Rajon Rondo and went to the free throw line to ice the game. 
"M-V-P" "M-V-P" M-V-P"
The famous MVP chant was started by the Miami fans as the young rookie calmly stepped to the line and hit both free throws that ultimately clinched the win. 
With the Big Three of Miami as the focal point of the Heat attack, Norris Cole has the chance to be a special player. It is hard enough to focus on James, Wade and Bosh each night. Throw Cole into the mix and you get an even deadlier combination. If you do not believe me, just look at what Rajon Rondo has done in Boston.
I do not want to get over-hyped on Cole too quickly though. Sure, he had one outstanding performance, but lots of players step up and have big games in their careers. I expect though, that Cole will have more than one great performance.
Norris Cole has all the tools to be great. Look at the players they have put around him.
Miami needed a great point guard to run the show, and it looks as if he may have arrived. 
"You grow up and live for moments like that," Cole said after the game.
Hopefully, there will be many more of those moments to come in Miami.