5 New York Giants Who Must Step Up Against the Dallas Cowboys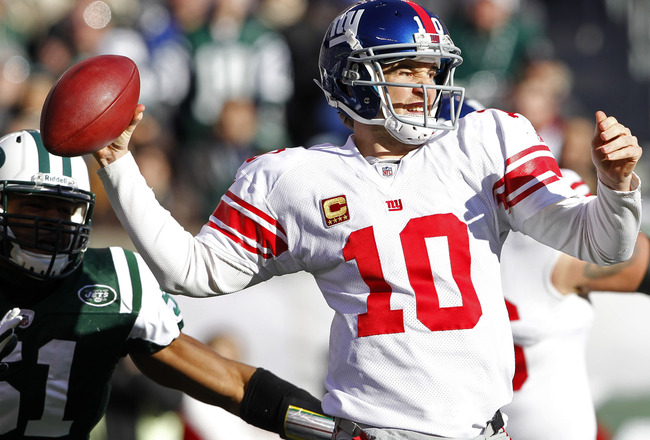 Rich Schultz/Getty Images
This is it. The playoffs are on the line on Sunday as the New York Giants face off against the Dallas Cowboys. The winner will take the NFC East and a playoff berth; the loser will be watching the playoffs from home.
Thousands of people will be watching the game anxiously at the stadium or at home, waiting to see what the outcome will be. Both teams have a shot at the NFC East title, and for the Giants their fate rests largely on the shoulders of five players.
This slideshow presents five Giants who must step up against the Cowboys on Sunday.
QB Eli Manning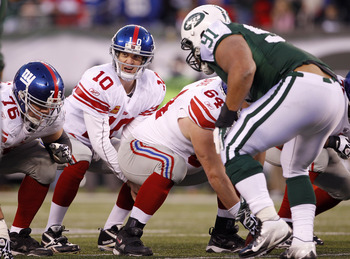 Rich Schultz/Getty Images
This one is a no-brainer. Eli Manning has put the Giants on his shoulders throughout the 2011 season, and the majority of New York's wins this year have been due to fourth-quarter heroics by Eli.
This week, Eli faces his most important game so far this year. The Giants' playoff hopes are on the line and against a shoddy Cowboys pass defense Eli should be able to have a field day. He's already scorched Dallas for 400 yards once this year and the Giants will need him to have a similar performance this time around.
Cowboys QB Tony Romo is almost sure to have a big day against New York's mediocre defense, and Eli will have to out-duel him to lead the Giants to a win.
Eli has been the leader of the Giants offense all season, and Sunday will be no exception. The performance of New York's offense as a whole will be based largely off of Eli's performance.
WR Victor Cruz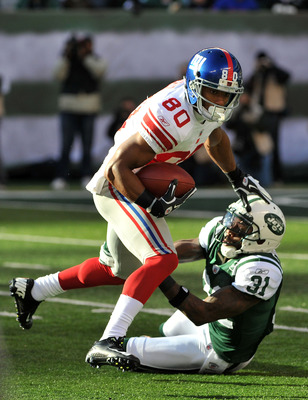 Christopher Pasatieri/Getty Images
We've all experienced the big-play ability of Victor Cruz at some point this year. This week, that ability will be needed more than ever.
In 13 weeks, Cruz racked up over 1,300 yards receiving and he is poised for a huge week against the Cowboys. Cruz's efforts will be greatly appreciated by the Giants: They will need all the help they can get in the passing game against Dallas.
With this game shaping up to be a shootout, Cruz will have to be able to help Eli Manning and the Giants keep up with Dez Bryant, Miles Austin and the Cowboys by playing the best football of his career. To keep up with the 'Boys, Eli will need his most dangerous wideout to be ready to perform.
The passing game will be relied on heavily by both teams, and Cruz has a perfect opportunity to have a big game. He will need to exploit that opportunity to help New York to the playoffs.
LT David Diehl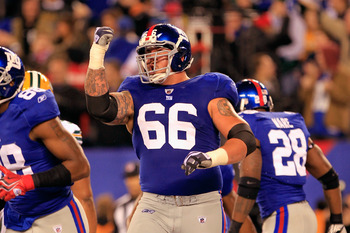 Chris Trotman/Getty Images
This is a big one. With the outstanding play of quarterbacks Eli Manning and Tony Romo, as well as the poor play of each team's secondary, this game is shaping up to be a shootout. Unfortunately, every time Eli drops back to pass DeMarcus Ware will be waiting for the opportunity to clobber him.
One man can stop that from happening, and his name is David Diehl. Diehl is currently New York's starting left tackle, and if the Giants expect to get anything going in the passing game, Diehl will have to be on his game on Sunday and ready to stop pass-rushers such as DeMarcus Ware.
Left tackle is the most important position on the offensive line, and on Sunday, New York's left tackle will be one of the most important positions in the game. A lot of the Giants' playoff hopes lie with David Diehl's performance against Dallas.
DE Jason Pierre-Paul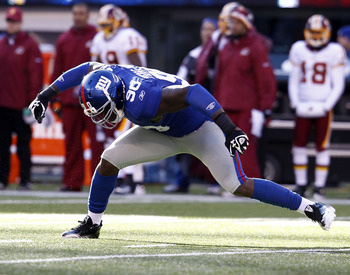 Jeff Zelevansky/Getty Images
While Eli Manning competes with Tony Romo, Jason Pierre-Paul will be competing with Cowboys linebacker DeMarcus Ware, one of the league's other elite pass-rushers.
Both players will be trying their hardest to make a difference in this game, and considering how many times each team will most likely be passing the ball Ware and Pierre-Paul will both have many chances to get to the quarterback and disrupt plays.
Pierre-Paul will need to outperform Dallas's pass rush and prevent Romo and the Cowboys from getting into a rhythm on offense. Otherwise, they may start picking apart New York's defense.
Last game against the Cowboys, Pierre-Paul recorded six tackles, two sacks, a forced fumble, a safety and a blocked kick. If the Giants can get a performance like that again from Pierre-Paul, it will be a lot harder for the Cowboys to pull out a win.
CB Corey Webster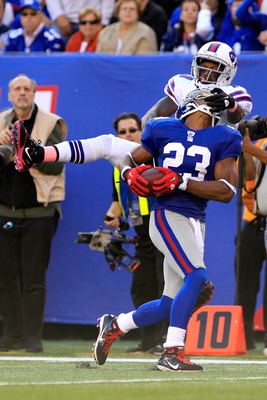 Chris Trotman/Getty Images
Cornerback Corey Webster has outplayed every other member of the Giants' secondary except possibly safety Kenny Phillips, and he will need to continue his high level of play against Dez Bryant, Miles Austin and the Cowboys offense.
Webster is tied for second in the league for interceptions with six, and he has proven himself to be a top 10 corner in the NFL this year. This week he will be up against either Dez Bryant or Miles Austin, but either one will be a challenge for him.
The Cowboys will almost surely be relying on the pass more than the run on Sunday, so Webster will need to be ready for any balls thrown his way. If he can deflect balls, pick off passes or even just make life hard for Tony Romo, the Giants will greatly appreciate it.
Webster cannot completely stop Romo by himself, and corner Aaron Ross and safety Antrel Rolle have left a lot to be desired in pass defense, but if Webster can play like the shutdown corner he has been for several games this season, it will be a huge help to New York's playoff hopes.
Keep Reading

New York Giants: Like this team?