NFL Pro Bowl: The Game Is Meaningless, the Honor Is Not
December 28, 2011
Let's get the obvious out of the way first: The NFL Pro Bowl is a joke. It is by far the worst All-Star spectacle of the four major sports (sorry readers in the South, NASCAR is not one of the four).
The NBA puts on a great slate of Saturday events and the actual NBA All-Star game is nonstop above-the-rim action. The Major League Baseball All-Star game has actual repercussions (whether or not that makes any sense is a topic for another day). Even the NHL All-Star game has a unique set up that is constantly evolving and involves nothing but open-ice and lots of mind-blowing goals from guys whose names you can't pronounce.
The Pro Bowl, however, is as about as exciting as the package of undershirts you got for Christmas. Nobody remembers when it is on. If you do, it is done strategically to make sure you don't accidentally watch it. Most of the players who are named to Pro Bowl teams don't even want to play in the game. As of last year, the Pro Bowl was moved up two weeks and is now played the Sunday before the Super Bowl. Therefore, any Pro-Bowlers whose teams are in the game that actually matters are replaced as well.
For example, if the Packers and Patriots play in Super Bowl XLVI in Indianapolis, a combined 15 players will not even make the trip to Hawaii. 15! Between that, fake injuries and "personal matters", so many original players drop out that by the time the game is actually played it looks more like Tuesday night's Little Caesars Bowl then an NFL All-Star Game.
No one remembers how Tom Brady performed last year or even if he played at all. We just know he has been named to 852 Pro Bowls. The image of Michael Jordan or Magic Johnson holding NBA All-Star MVP Trophies above their heads does not resonate in the Pro Bowl. I have no idea who has won a Pro Bowl MVP or if that is even a real award, and I don't plan to look it up anytime soon.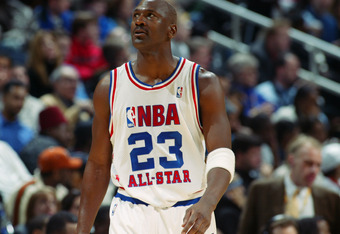 Jamie Squire/Getty Images
Unlike the other major sports, being a Pro-Bowler has nothing to do with the game itself. It is only about being named to the team. Due to voting flaws (like letting fans vote, which is just dumb), there are always going to be snubs, gripes and atrocities in selections to deal with. This season is no different. While Marshawn Lynch, Aldon Smith and Victor Cruz certainly drew the short end of the stick this year, no player was more royally screwed than the Lions' Matthew Stafford.
Stafford was left off the NFL Pro Bowl team in favor of Drew Brees, Aaron Rodgers and Eli Manning. To make the case for Stafford over Brees or Rodgers would obviously be blogosphere suicide, so instead I will go after the MVP of Super Bowl XLII, Eli Manning.
Statistics
First let's do the old "blind taste test" on numbers alone and decide who is more deserving.
QB 1: 4,587 yards, 60.3% Comp, 26 TD, 16 INT, 90.3 QB Rating.
QB 2: 4,518 yards, 63.7% Comp, 36 TD, 14 INT, 96.6 QB Rating.
Clearly QB 2 has had the better statistical season; more accurate, better TD/INT ratio and a higher efficiency rating. No surprise that QB 2 is Matthew Stafford.
Run Support
Both the Giants and Lions rank at the bottom of the NFC in rushing yards per game. The burden falls on the quarterback to produce in these situations. For both teams to have a winning record with no discernible run game to speak of is a testament to both Manning and Stafford.
There is one difference, however. Coming into the season, the Giants top two running backs were Ahmad Bradshaw and Brandon Jacobs. Those two have combined to play in 24 games, have 300 carries, 1157 yards and 15 touchdowns. Coming into 2011, the Lions top two running backs were Jahvid Best and Mikel LeShoure. Detroit's top two backs have combined to play in six games, have 84 carries for 390 yards and two touchdowns.
Best and LeShoure were first and second round picks for the Lions, respectively, in the past two drafts. Yet without a single carry from LeShoure and no consistent contribution from Best, the Lions continue to average over 28 points per game, third most in the NFC. Knowing the Lions run game is almost non-existent, teams drop more linebackers and safeties into coverage, theoretically making it harder for Stafford to throw. It has not seemed to bother him yet.
Intangibles
Of course there is much more to playing the most important position in all of sports than just numbers, so let's discuss those intangibles.
The Giants are 8-7, needing to win at home this Sunday against the Cowboys to make the playoffs. After starting 6-2, the Giants have gone into their typical late season meltdown. To Eli Manning's credit, he has five fourth quarter comebacks and six game-winning drives.
While he was masterful against New England as well as in Week 14 in Dallas, leading the G-Men to a come from behind 37-34 win, the rest of his late-game heroics are not so impressive. They came against the likes of  Arizona (7-8), Buffalo (6-9) and Miami (5-10). Manning was also atrocious in two losses this season to division rival Washington (5-10). In those two all-important divisional games, Manning combined for zero touchdowns and four interceptions.
The Lions are 10-5 and have clinched their first playoff berth since 1999. With a win this weekend at Green Bay (which should happen since Aaron Rodgers will likely be a spectator), the Lions will have their first 11-win season since 1991. The treacherous team history that Stafford and his current teammates have had to overcome this season cannot be overstated.
The Lions' losses have come at the hands of playoff teams New Orleans (12-3), Atlanta (9-6), Green Bay (14-1), San Francisco (12-3) as well as at Chicago when Jay Cutler and Matt Forte were healthy. Stafford has played well and won every "winnable" game on the schedule. With three combined losses to Washington and Seattle, the same cannot be said for Manning.
So far the only leg-up that Manning seems to have on Stafford is his ability to turn into Mr. Clutch in late-game situations. Well, Stafford will see the fourth quarter accolades of Manning this season, and raise him. Stafford has led the Lions to an NFL-record four fourth quarter comebacks from 13 points or more. Three of those came on the road (Minnesota, Dallas and Oakland). Not most this season—most ever.
Three weeks ago, the Lions were 7-5 and the talk of the NFL for all the wrong reasons. They had blown a 5-0 start. They were being labeled as a dirty, undisciplined team whose hot start was all smoke and mirrors. Stafford had even broken a finger on his throwing hand against Denver and has spent the past five weeks playing through it.
And then Stafford got healthy and put the team (and at the risk of sounding trite, the city) on his back. During the Lions recent playoff-clinching three-game winning streak against Minnesota, Oakland and San Diego, Stafford has thrown for 991 yards, completed 67 percent of his passes with nine touchdowns and no interceptions. If it were not for Rodgers and Brees, we would be talking about Matthew Stafford for MVP.
Unless you are a die-hard Giants fan, you cannot make a rational argument for Eli Manning being named to the Pro Bowl over Matthew Stafford this season (remember, it is not a lifetime achievement award). The Lions gunslinger has been superior in 2011 in almost every way.
The good (and bad) news for Lions fans is that there is a 96 percent chance either the Packers or Saints are going to the Super Bowl. That means Brees or Rodgers will be out and Matthew Stafford will most likely play in the Pro Bowl after all.
But who wants to watch that?