Lions vs. Packers: TV Schedule, Live Stream, Radio, Game Time and More
December 28, 2011
Gregory Shamus/Getty Images
The Detroit Lions hit the road to finish out the regular season against their division rival, the Green Bay Packers. 
Both teams are having great years, and they'd love to enter the playoffs on good notes. For the Lions, this is their first trip to the postseason since 1999. The Packers, on the other hand, are hoping to repeat as Super Bowl champs. 
The first time these two teams met this season was on Thanksgiving Day, and Green Bay won 27-15. This time around, let's hope NFL fans aren't given another show from Ndamukong Suh. 
With that said, let's take a look at some specifics of this NFC North showdown. 
When: Sun, Jan. 1 at 1:00 p.m. ET 
Where: Lambeau Field, Green Bay, WI
Watch: FOX
Listen: WTMJ 620 AM in Milwaukee, WXYT 97.1 FM in Detroit 
Live Streaming Audio: NFL.com Audio Pass ($29.99 for year, $27.99 team specific, $9.99 a month)
Betting Line: Lions (-4) 
What's At Stake? 
A win over the Packers would secure the No. 5 seed for the Lions, but a loss gives the Atlanta Falcons a chance to steal it. Plus, a win over Green Bay right before the playoffs would do wonders for the team's spirit. 
Green Bay has no worries for this game since its already locked up the No. 1 seed, which may mean the Packers rest some of their players in this game. 
We won't truly know until the game is played out, but do expect this to be a close battle throughout. The Packers will more than likely fight hard to win because it is a division matchup, and they want to finish the year with only one loss. 
Detroit Injury Report 
*According to CBSSports
DB Aaron Berry (shoulder): Status Unknown
DB Don Carey (concussion): Status Unknown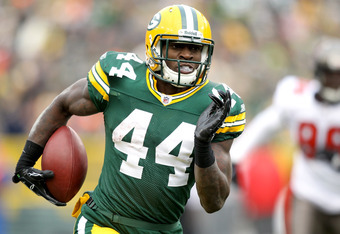 Matthew Stockman/Getty Images
DB Louis Delmas (knee): Status Unknown
RB Kevin Smith (ankle): Probable, per ESPN
Green Bay Injury Report 
*According to CBSSports
RB James Starks (ankle) : Questionable 
WR Greg Jennings (knee): Status Unknown 
DL Ryan Pickett (concussion): Status Unknown 
Fantasy Start 'Em, Sit 'Em, Sleeper 
Start: Calvin Johnson, WR  
Aaron Rodgers is a risky play because the Packers may decide to sit him halfway through, which is why Johnson becomes the most sure-fire start in this game. 
There's a chance he gets some extra rest too, but I think the Lions will stick it out and try their best to take down the mighty Packers, meaning Johnson is going to be a prime target. The Packers' secondary is their weak spot, and Johnson will expose them to deliver a third consecutive game with over 100 yards receiving.
Sit: Jermichael Finley, TE 
Finley hasn't be quite the star many expected him to be, and in this final regular season game he won't amount to much. The Lions held him to two receptions back on Thanksgiving, and they'll make sure to limit his production again.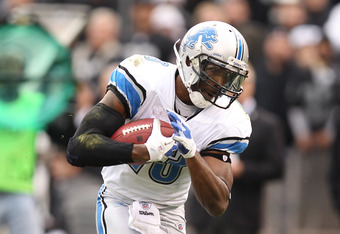 Ezra Shaw/Getty Images
Last week, Finley found the end zone for the first time since Week 13, and while he's capable of going off again I just don't see it happening because the Lions know to take him out of the game. 
Sleeper: Nate Burleson, WR 
Burleson is a very questionable start every week because he has the chance of exploding, but also falling flat on his face in terms of fantasy production. 
However, the Lions are going to be airing it out, meaning all of Matthew Stafford's weapons should succeed against the Packers' subpar secondary. 
What They're Saying 
Dave Birkett covers the Lions for the Detroit Free Press, and he tweeted a quote from Stafford about whether or not he'll be playing in this game.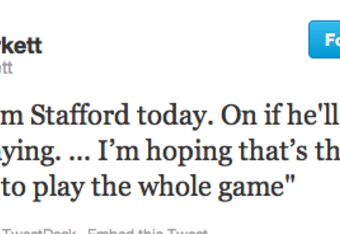 The Lions are smart enough to know that Stafford shouldn't sit the whole game, but giving him some rest would still be wise. 
While this is a good sign from Stafford, Detroit has to be careful. The last thing the Lions need is for Stafford to get hurt right before the playoffs. He wants to play the whole game because this is a rivalry game, and the fact that the Lions were in contention against the Packers the first time around. 
It would definitely be a great boost of confidence for the Lions to get the victory over the Packers right before the postseason, and Stafford playing for a majority of the game will ensure that happens. It's up to Detroit to decide whether or not it wants to run that risk.
The Green Bay Packers official Twitter page tweeted a recent quote from head coach Mike McCarthy about his attitude toward this upcoming game.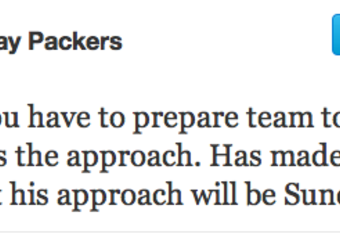 Of course McCarthy wants to win this game to extend the record to 15-1, but playing it safe is always a good method too. Since this is a division game, expect the Packers to give it their all. 
It's up to McCarthy to decide when to pull his players, and that will come from how the game the going. If its an early blowout then the starters will get some rest, but if they're losing then McCarthy might be tempted to play them longer. 
He has to be careful because risky injury is a bold move, but every week these players are subject to injury. It's a part of the game. Plus, the Packers have the first-round bye to get that needed rest. 
Lions Player to Watch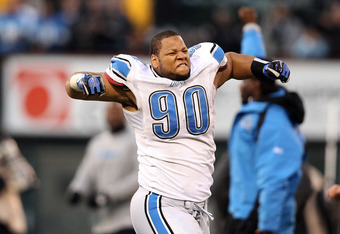 Ezra Shaw/Getty Images
Ndamukong Suh let his emotions get the best of him and ended up costing his team valuable yards following his stomp on Packers guard Evan Dietrich-Smith's arm in the Thanksgiving Day game. Plus he was kicked out and suspended two more games.
Let's see if Suh can behave himself in the rivalry game. With the playoffs right around the corner, Suh needs to keep a level head and make sure he doesn't step out of line.
Packers Player to Watch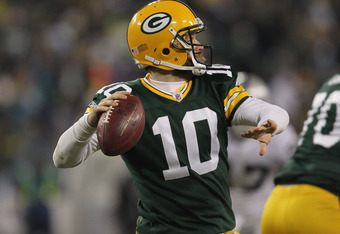 Jonathan Daniel/Getty Images
I do think that Rodgers ends up sitting in the second half, which means Matt Flynn will get a great opportunity to show teams what he's made of.
Flynn will be a free agent after this season, and it's likely that a number of teams will be after him if they miss on a rookie in the draft. He should see playing time in this game, and he has to make the most of it or it could hurt him once the season is over.
Key Matchup 
The key matchup to watch is the passing offense vs. the passing defense for both squads. The Packers have been lighting up opposing defenses thanks to stellar play from Rodgers, but their defense ranks as the second-worst in the NFL against the pass. 
The Lions need to take advantage of this, and they most certainly will. Stafford and his weapons have been on point, delivering big plays left and right. If the Lions wish to win this game, they'll need to limit Rodgers and also dominate through the air.
Prediction 
I like the Packers to edge out a close one over the Lions on Sunday. Detroit will be more concerned with resting players in the second half since it doesn't have the first-round bye, whereas Green Bay will fight to the end to finish the year with an amazing 15-1 record. 
Packers 27, Lions 24