Colorado Mammoth 2012 Preview: Can They Challenge in the NLL West?
January 2, 2012
Times have been tough for the Colorado Mammoth the last few years. After finishing dead last in the NLL West in 2010 the Mammoth improved in 2011 by only a single win, leaving them tied with the Edmonton Rush in the cellar with a 5-11 record. Colorado moved on to the playoffs by virtue of winning their season series with Edmonton but were overmatched in their only playoff game against the Calgary Roughnecks.
2012 is a new year, however, and hope springs eternal. Going into their 10th season, Colorado has something to prove to a fanbase that is among the biggest and most enthusiastic in the league. 
A number of key moves were made during the offseason to bolster the lineup. Dan Carey was sent to the Toronto Rock for Creighton Reid and Mat MacLeod. They picked up three players from the Minnesota Swarm—Rory Smith, Sean Pollock and Jon Sullivan—in exchange for their third overall pick in the Boston Blazers' dispersal draft. Then they traded Ned Crotty to the Philadelphia Wings for veteran defenseman John Orsen.
They also lost a player who has been a huge contributor to the franchise when Brian Langtry announced his retirement. Langtry retires as the third highest scorer in Mammoth history with 503.
One place where the Mammoth shouldn't have any concerns is goal where Chris Levis finished fourth in the NLL in goals against average at 9.99 with an equally strong .784 save percentage. After signing Levis to a two-year contract he figures to be a key component for Colorado for a while.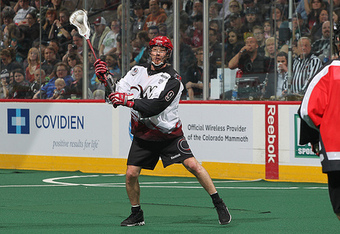 Defending the Colorado end in front of Levis will be returning players John Gallant, Ian Hawksbee, Jarett Park and Matt Leveque. Hawksbee is currently on the Physically Unable To Perform list but is expected to be ready for Opening Day and is a strong defender, leading the team's defensemen last year in loose balls with 93.
Joining them on defense are Orsen, Smith, Sullivan and Reid, all of whom should provide depth to the back court. Orsen, in particular, is a loose ball machine, scooping up 32 in just four games last season for Boston and 114 in a full year in 2010.
Transition play is once again led by Ilija Gajic, who was tops on the team overall in loose balls last year with 101 in addition to forcing 19 turnovers. Jed Prossner joins Gajic on transition along with MacLeod and Scott Stewart.
Stewart will challenge Leveque for faceoff duties on the Mammoth. Both players were under 50 percent in the faceoff circle and challenging each other in that role may push them both to improve in that aspect.
On offense, the scoring punch will once again be provided by John Grant Jr. and Gavin Prout. Grant once again had a strong campaign, leading the Mammoth with 36 goals and 83 points, while Prout was solid in his return to Colorado after a season-and-a-half away, notching 60 points overall with 23 of those coming after being traded from the Edmonton Rush mid-season.
Pollock picked up 27 points for the Swarm last year and will help the offense on the right side. Alex Gajic, who is currently on the Physically Unable To Perform list with Hawksbee, has scored 48 points in each of his two seasons with Colorado and should be back and contributing soon.
Time will tell if the moves Colorado made will lead to results on the floor. The Mammoth kick off their 2012 season on January 14 when they host the Minnesota Swarm.