Grading Every First-Round 2011 NBA Draft Pick in Their Debut Performance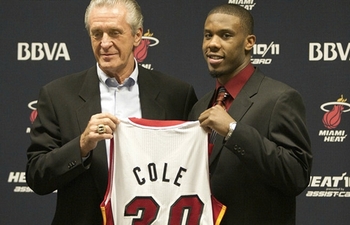 The 2011 NBA draft class might not have been packed with talent like others which preceded it, but exciting young players like Kyrie Irving and Norris Cole have some fanbases giddy about the future.
It's obviously very early in the season and the sample size is extremely small, but some rookies have made a much more favorable imprint than others at the beginning of their careers.
While there's no doubt that there is plenty of time for several on this list to improve, the focus will be firmly on those enjoying the most success early in the campaign.
There are several first-round picks who have yet to make a professional debut and others which who will have to wait until 2012-13, but there are plenty of first-rounders active right now.
Did they earn a passing grade?
In Waiting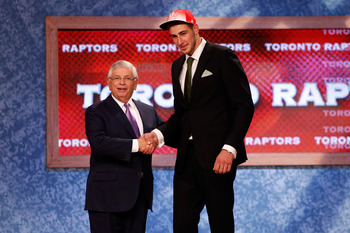 Mike Stobe/Getty Images
The following players have yet to make their professional debut:
No. 5: Jonas Valanciunas, Toronto—Lithuania
No. 6 Jan Vesely, Washington—Hip injury
No. 19 Tobias Harris, Milwaukee—Severe dehydration
No. 20 Donatas Motiejunas, Houston—Poland
No. 23 Nikola Mirotic, Chicago—Real Madrid
No. 24 Reggie Jackson, Oklahoma City—Coach's decision
No. 26 Jordan Hamilton, Denver—Coach's decision
No. 30 Jimmy Butler, Chicago—Coach's decision
Incomplete Grades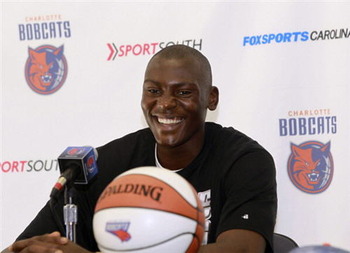 The following players have seen extremely limited action and require a greater sample size to grade:
No. 14 Marcus Morris, Houston
No. 21 Nolan Smith, Portland
No. 22 Kenneth Faried, Denver
No. 27 JaJuan Johnson, Boston
No. 29 Cory Joseph, San Antonio
No. 28, Norris Cole, Miami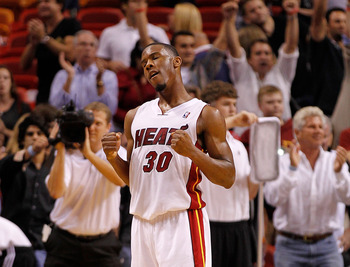 Mike Ehrmann/Getty Images
Stats: 10.7 points, 2.7 rebounds, 1.7 assists, 1.3 steals, 2.3 turnovers, 13-of-32 shooting (40.6 percent), 5-of-8 from the stripe (62.5 percent)
It's a Cole world in Miami right now, and Heat fans are enamored with the team's decision to nab the Cleveland State product at the back end of the draft.
He has remarkable poise and skill for a rookie without the benefit of summer league nor a full training camp, and it is conceivable he could begin to push Mario Chalmers for the starting job in the not so distant future.
However, he's going to have to cut down on his turnovers and improve his efficiency from the floor in order to do that.
Grade: A-
No. 25, MarShon Brooks, New Jersey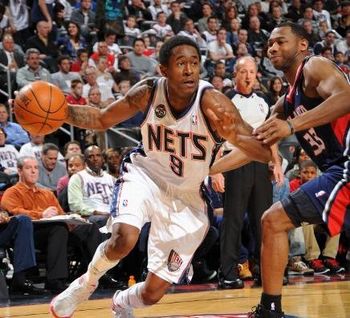 Stats: 11.5 points, 2.5 rebounds, 0.5 assists, 0.5 steals, 0.5 blocks, 8-of-19 shooting (42.1 percent), 7-of-8 from the stripe (87.5 percent)
Brooks illustrated what he's capable of doing when he scored 17 points against Atlanta in just his second game, and the Nets need to find a way to get him on the court consistently.
He's more than just a volume scorer, and Brooks has legitimate ability to help boost an offense that is sputtering following the indefinite loss of Brook Lopez.
It can't get much worse for this team on the wing, but the Nets will only give him serious burn if he uses better decision-making on offense and displays greater commitment on defense.
Grade: B
No. 18, Chris Singleton, Washington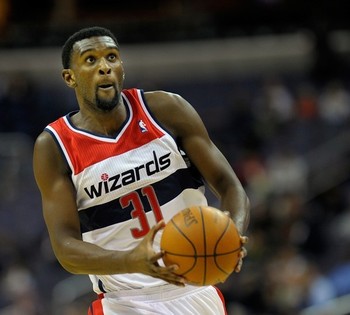 Stats: 5.0 points, 2.5 rebounds, 2.0 steals, 0.5 blocks, 0.5 turnovers 4-of-7 shooting (57.2 percent)
Singleton is known for his defensive abilities, but the popular consensus in league circles is that his offensive game is just too raw to contribute on that end of the floor.
While there's certainly some work to be done, Singleton has been a pleasant surprise for some as he's not quite the work in progress that some may have believed.
He could wind up playing a very nice role for a team that will need his defensive tenacity on a nightly basis.
Grade: B
No. 17, Iman Shumpert, New York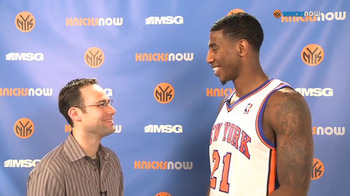 Stats: 11.0 points, 4.0 rebounds, 1.0 assists, 2.0 turnovers, 3-of-13 shooting (23.1 percent), 5-of-5 from the stripe (100 percent)
There was an allure around Shumpert and the athleticism he brought to the lineup, and while he was certainly exciting to watch, he looked like a shot-chucker extraordinaire in his debut.
He shot the ball a whopping 13 times in just 22 minutes, and that's a trend that can't afford to continue on a team that is built around Carmelo Anthony and Amar'e Stoudemire.
His MCL sprain will keep him on the shelf for the time being, and perhaps he'll learn a thing or two by watching his teammates during his time off.
Grade: C
No. 16, Nikola Vucevic, Philadelphia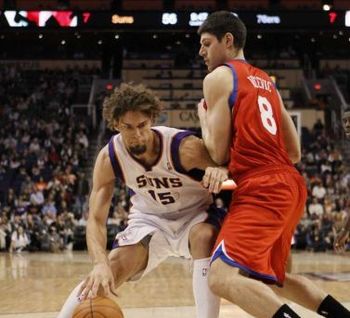 Stats: 6.0 points, 6.0 rebounds, 2.0 assists, 1.0 steals, 2.0 turnovers, 3-of-6 shooting (50 percent)
Vucevic slipped to No. 16 overall, and the Sixers came away with an absolute steal in the draft as a result.
The big man in the middle has ability to hit the long-range jumper, and he's going to earn more time as the season goes on as long as he shows consistent improvement in his production.
Although the Sixers might not turn to him on a nightly basis to fill the stat sheet, Vucevic is an intriguing youngster who is definitely worth keeping an eye on.
Grade: B
No. 15, Kawhi Leonard, San Antonio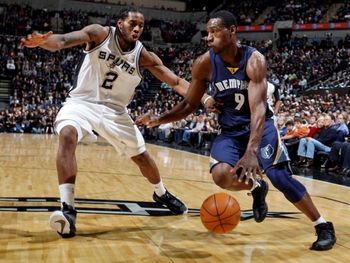 Stats: 4.0 points, 7.0 rebounds, 1.0 assists, 1.0 steals, 0.5 turnovers, 3-of-12 shooting (25 percent), 1-of-4 from the stripe (25 percent)
Leonard is another rookie who needs to learn how to look for a better shot, and perhaps Coach Popovich told him exactly that following his debut game.
Thankfully the Spurs don't need Leonard to be great on offense, but a 25 percent clip from the field and converting on just one of four free throws isn't exactly a stellar start to his shooting career.
His athleticism has certainly come as advertised, and with 14 rebounds in a combined 34 minutes of action, it's clear that Leonard being undersized won't have an impact on his ability to crash the glass.
Grade: B-

No. 13, Markieff Morris, Phoenix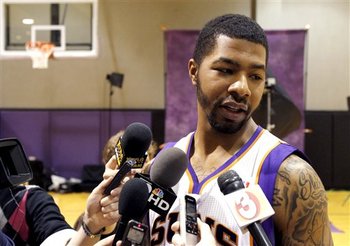 Stats: 8.0 points, 6.0 rebounds, 1.5 assists, 1.0 steals, 1.0 blocks, 1.0 turnovers, 6-of-10 shooting (60 percent), 2-of-2 from the stripe (100 percent)
Markieff Morris was a surprise pick ahead of his twin brother Marcus for some, but the Suns saw someone who was capable of contributing to the front line right away.
The rookie has shown impressive poise at both ends of the floor, and he's already looking very comfortable in his role with the Suns.
He knows how to play the style of game Alvin Gentry wants, and with Channing Frye struggling, he could really play a larger role than most of his fellow rookies.
Grade: A-
No. 12, Alec Burks, Utah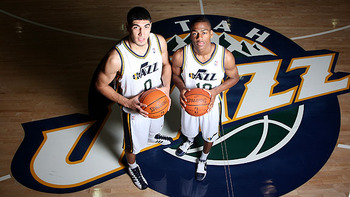 Stats: 7.5 points, 0.5 rebounds, 1.0 assists, 1.0 steals, 0.5 turnovers, 6-of-11 shooting (54.6 percent), 3-of-3 from the stripe (100 percent)
Burks has played minimal minutes in his first two games with the Jazz, but it hasn't taken a lot of time on the court to make his presence felt on the lineup.
A really nice scorer in the second unit, Burks poured in 15 points in just 10 minutes of action in his second game, and it's easy to see why Utah drafted him in the hopes of bolstering the production in the reserve unit.
Burks is going to be in store for more opportunities if he continues to show he belongs, but he'll have to do more than just score in order to gain the trust of his coaches.
Grade: B
No. 11, Klay Thompson, Golden State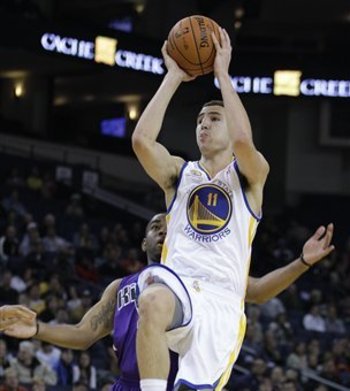 Stats: 3.0 points, 2.0 rebounds, 1.0 assists, 1.0 turnovers, 3-of-12 shooting (25 percent), 2-of-2 from the stripe (100 percent)
Thompson came into the season billed as arguably the best shooter in the draft, but he's really struggled during his first go of it for the Warriors.
He hasn't found his stroke from anywhere on the floor, and Thompson really needs to contribute in more areas than scoring for him to provide true value to Golden State.
With Stephen Curry's ankle looking like it very well could be an issue all year long, Thompson needs to learn on the fly how to be a more well-rounded player, but so far there's a lot to be desired.
Grade: C-
No. 10, Jimmer Fredette, Sacramento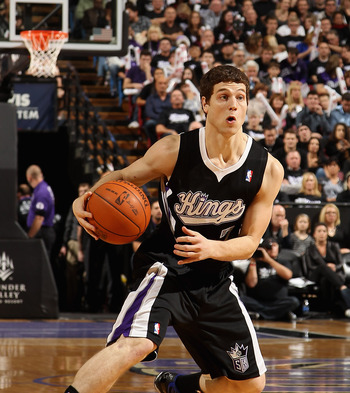 Ezra Shaw/Getty Images
Stats: 8.0 points, 1.0 rebounds, 2.5 assists, 2.5 turnovers, 7-of-18 shooting (38.9 percent), 1-of-1 from the stripe (100 percent)
Jimmer-mania is in full effect for Kings fans, and while there are certainly some things to like, there is a litany of items for Fredette to improve upon.
He's got to be a more active defender, and it's not just about the stats. Fredette has to improve in his lateral quickness to keep up with quicker, bigger opposition to see steady playing time.
Additionally, he's got an assist-to-turnover ratio of one-to-one, and that is not something that is going to keep him on the court for major stretches at a time.
Grade: C
No. 9, Kemba Walker, Charlotte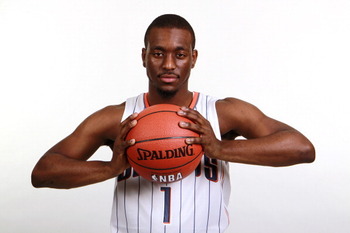 Stats: 13.5 points, 4.0 rebounds, 3.0 assists, 1.0 steals, 1.5 turnovers, 9-of-19 shooting (47.4 percent), 8-of-9 from the stripe (88.9 percent)
Walker had a shake-and-bake move in his debut that made Michael Jordan get out of his seat, and it's a sign of his legitimate playmaking ability for a team that desperately needs it.
Although a lineup of he and D.J. Augustin together might be small against some opposition, Coach Paul Silas hasn't won't be afraid to use in order to get the exhilarating rookie onto the court.
There will be some bumps and bruises along the way (especially dishing the rock), but Walker looks like the real deal for a Bobcats club that needs a franchise face.
Grade: A
No. 8, Brandon Knight, Detroit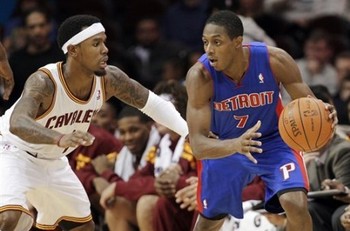 Stats: 16.0 points, 1.0 rebounds, 3.0 assists, 1.5 steals, 3.0 turnovers, 13-of-22 shooting (59.1 percent), 0-of-1 from the stripe (0 percent)
Knight is battling early issues with turnovers, but the electric rookie really showed what he was able to do with extended playing time in his second career game.
He looked for his own offense often during his time at Kentucky, and Detroit is hoping that he turns into more of a facilitator as the season progresses.
Although he's in a crowded guard rotation, Knight showed some serious promise as the point guard of the future and should have the ball in his hands more often.
Grade: A-
No. 7, Bismack Biyombo, Charlotte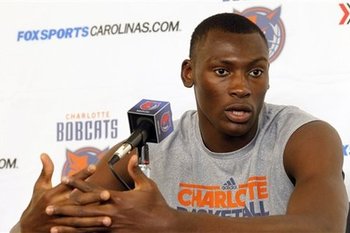 Stats: 1.0 points, 2.0 rebounds, 1.0 blocks, 1.0 turnovers, 1-of-1 shooting (100 percent), 0-of-2 from the stripe (0 percent)
Biyombo's lack of offensive production isn't really a concern for the Bobcats, because Charlotte didn't bring him in to be a scoring threat down low.
The team is probably going to bring him along very slowly, but Biyombo's athleticism around the rim and legitimate shot-blocking capabilities have already been very evident.
With the Bobcats desperate for help in the big man department and for a defensive force to assert himself down low, Biyombo could become a household name by midseason.
Grade: B-
No. 4, Tristan Thompson, Cleveland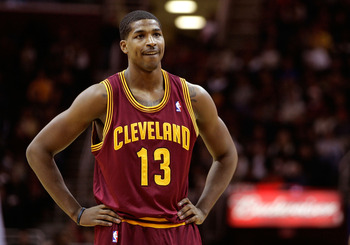 Mike Lawrie/Getty Images
Stats: 11.0 points, 4.5 rebounds, 0.5 assists, 0.5 steals, 1.0 blocks, 1.5 turnovers, 9-of-14 shooting (64.3 percent), 4-of-6 from the stripe (66.7 percent)
Thompson was a major surprise as the No. 4 overall selection, but he debuted with a bang and looks like a promising piece for Cleveland's rebuilding project.
Known as a shot-blocker with extraordinary lift, Thompson is coming off the bench and wasting no time with his contributions to the team.
When (not if) he is given more time on the court, look for Thompson to really take off and turn a ton of heads around the league as one rookie who has an easier time transitioning than others.
Grade: B+
No. 3, Enes Kanter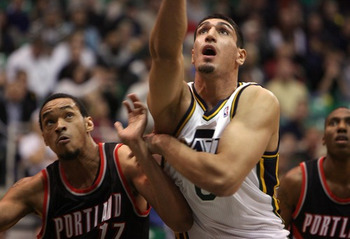 Stats: 4.5 points, 8.0 rebounds, 0.5 blocks, 2-of-12 shooting (16.7 percent), 5-of-7 from the stripe (71.4 percent)
Kanter isn't going to see consistent playing time when Utah is in the game, but fortunately for him, the Jazz look like a team that could get blown out on a regular basis.
He is already establishing himself as a force on the glass at both ends of the court, but raw isn't an adequate enough adjective to describe his offensive attack around the rim at this juncture.
It's tough to evaluate a kid who had to take a full year off after being ruled ineligible to play for Kentucky, and it's going to take some time for him to round out his attack.
Grade: C+
No. 2, Derrick Williams, Minnesota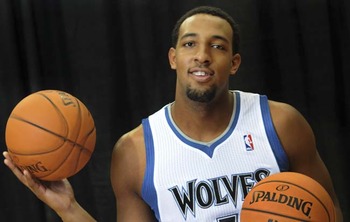 Stats: 8.0 points, 5.5 rebounds, 1.0 assists, 0.5 steals, 7-of-17 shooting (41.2 percent), 2-of-4 from the stripe (50 percent)
Williams' athleticism is intriguing, and there's no doubt he's got a solid career in store, but like most rookies, he's got to endure a really difficult transition.
He is yet another player who needs to improve on his shot selection, and after taking 14 shots in his first affair (scoring 13 points), Williams scaled it back to just three in his second career game.
The most attractive point might be somewhere in between, but he's really got to understand that he can't settle for shots from deep like he showed a proclivity to do in college.
Grade: B
No. 1, Kyrie Irving, Cleveland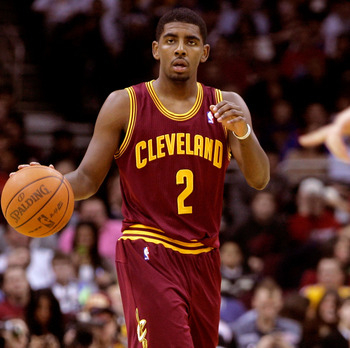 Mike Lawrie/Getty Images
Stats: 10.0 points, 3.5 rebounds, 7.0 assists, 1.5 steals, 2.0 turnovers, 7-of-21 shooting (33.3 percent), 5-of-5 from the stripe (100 percent)
Despite a less than stellar start from the field, Irving has shown impressive decision-making with the ball in his hands during his brief tenure thus far as a pro.
Additionally, Irving doesn't seem to be phased no matter what the circumstance, and he is giving little indication that anyone else should've been considered for the top overall selection.
The Cavs may have the start of something with Irving and Tristan Thompson, but each will need more time to fully cultivate their potential.
So far, the returns have been very positive for Irving and Cleveland.
Grade: A
Keep Reading