Professional Sports Leagues Don't Give Enough Back
December 28, 2011
Julian Finney/Getty Images
At this Christmas, the time of giving, there is an interesting occurrence going on in the NFL, something almost without precedent since it began its rise to the top of North American sports during the 1960s.
It is occurring in Cincinnati for its final game of the year against the Baltimore Ravens.
The Bengals, with a 9-6 record, are assured a playoff birth with a victory. But going into the final week, the game wasn't close to selling out and the city had to rely on the purchase of the tickets by generous corporations to avoid a television blackout.
Now it's quite normal for NFL teams who are out of the playoff picture not to sell out their final games, but for a playoff bound team against a top opponent in their most important game of the year so far not to come close to a sell out is almost unprecedented.
Earlier in the year, the Bengals also drew the worst crowd in their history, 41,000 to a game against the Buffalo Bills.
Not even during the long streak of inept years, a decade between playoff games, have the Bengals drawn so poor an attendance.
Is the bloom of the NFL over in Cincinnati?  Is it just confined to Cincinnati?
An examination of all North American professional sports leagues indicates that it is not a local problem, but one across all North America and has been caused by the combination of two problems; elitism and the repeated economic crises that have occurred since 1990, most recently the mortgage meltdown of 2008 which has ruined millions of people.
These repeated crises have left millions of North Americans unemployed or underemployed and unable to afford tickets or even sports merchandise.
Joe Robbins/Getty Images
At the same time, sports leagues increasingly cater to the rich which is shown in several ways:  the building of multi-million dollars sports facilities; lots of private boxes within these facilities that only rich clients can afford; high ticket prices, especially for the best seats, that only rich patrons can dream of getting; highly unrealistic player salaries; and less sports on public television.
And like governments, Wall Street-Bay Street financiers, multinational corporations, and rich people—professional sports leagues are content with the way things are and do virtually nothing to help.
In fact, it is quite conceivable for an arena or stadium to be built consisting of nothing but 5,000-10,000 private boxes going for $50,000 each and an elite sports team playing for no one but this narrow base of fans.
The current path which North American professional sports are following is shown in other ways.
In the NFL, the number of local blacked out televised games is increasing.
In Toronto during Maple Leaf games, it is quite common to see large of blocks of empty seats at the beginning of the second and third periods.  Why aren't the patrons in their seats to catch all of the exciting action?
Because these "fans" are members of corporations who take their clients to the hockey game as a business attraction and spend the time in between periods drinking and concluding business deals. The game is secondary.
During the World Baseball Classic, Boston Red Sox slugger Kevin Youkilis called on fans to show more support for the American team and was immediately divulged with blog messages of scorn and hatred.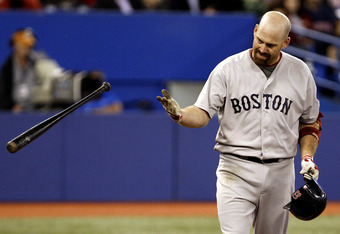 Abelimages/Getty Images
When examining these messages, an interesting pattern became visible; those people who were expressing the most hatred were those suffering from the mortgage meltdown the most.
Before the mortgage meltdown, it seemed inevitable that all four major professional North American leagues were headed to a symmetrical 40 team structure consisting of 2 conferences of 4 divisions, each containing 5 teams.
(In fact there are so many large North American markets, there is the possibility of having nearly a 60 team league).
But the meltdown has put those dreams on hold for the conceivable future.  Now relocation instead of expansion has been the current reality.
The Seattle Supersonics of the NBA and the Atlanta Thrashers of the NHL have moved to Oklahoma and Winnipeg with more on the way.
In the NFL, the goal of getting Los Angeles back into the league has been viewed as attempt to steal an established team (with seven cities targeted) instead of the expansion route.
In Toronto, the recent experiment of playing one Buffalo Bills game a year there has cooled ardour for the NFL..
The high ticket prices were seen as way of gouging fans and had to be revised downward.
And in many NHL cities, where hockey is unfamiliar and unpopular, tickets are almost given away in sweetheart deals.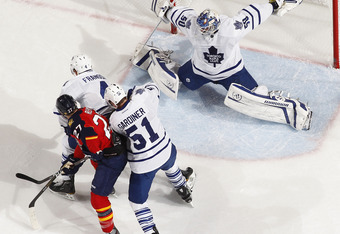 Joel Auerbach/Getty Images
Of course the leagues have charities, but they tackle secondary problems.
In Canada, the CFL has a program called Tackling Hunger in which a food donation equal in weight to a quarterback is donated to the local food bank each time he gets sacked.
But that's like putting a bandage over a deep wound; it doesn't tackle the real causes of hunger—unemployment and underemployment.  Sports leagues refuse to recognize and do anything about the main problem.
If the leagues don't think they are getting hurt by the problem, they are sadly mistaken.
As noted above, plans to expand their leagues get put on hold.
Each time someone becomes unemployed, their market shrinks.
Taxpayers get reluctant and resentful about financing new sports facilities.  A new Los Angeles stadium has yet to see a shovel in the ground.
If all families can think about is basic survival, they won't buy sports merchandise, let alone expensive tickets.
There are more television blackouts and empty seats.
People can't afford cable or satellite TV, and ratings drop.
But the sports leagues and their expensive players, living in their little world, playing before an increasingly elitist audience, are wearing horse blinders to what is occurring in North America and around the world.
We are starting see the Occupy Movement, but maybe what sports leagues need is the equivalent of the French Revolution to bring them back to common reality.