Jerry Jones Is the Dallas Cowboys GM, but Who Really Owns the Team?
December 28, 2011
Jay Drowns/Getty Images
The Dallas Cowboys are under new ownership, and have been for awhile now.
No, I am not reporting that the Jones family has sold one of the world's most valuable sports franchises. The ownership exchange has not been the result of an asset exchange. It has been more of a hostile takeover.
Let me explain.
Andy Reid owns the Dallas Cowboys.
In 13 seasons as head coach of the Philadelphia Eagles, Reid has posted a 17–9 record versus America's Former Team. While the Cowboys have ventured past the first round of the playoffs but once in that span, Reid's Eagles have won seven division titles, played in five NFC championship games and been to one Super Bowl.
Oh, by the way, the Cowboys have plowed through five coaches in those 13 years. They have, however, kept the same GM. Apparently, owner Jerry Jones is willing to let coach Andy Reid dominate his team year after year, just as long as Jones gets to keep deluding himself into believing he is a competent "football man."
The thing Jones is most proud of these days is his shiny new $1.2 billion play pretty in Arlington. But he doesn't own that, either.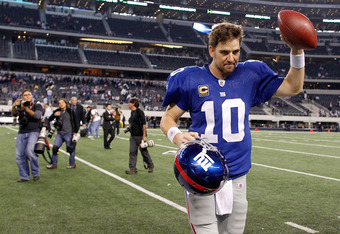 Tom Pennington/Getty Images
Eli Manning owns Cowboys Stadium.
The Giants were the Cowboys' first-ever opponent in the new stadium. Eli & Company spoiled the grand opening by beating the Cowboys. Eli would add insult to that injury by signing the locker-room wall after the game.
"First win in the new stadium," Eli wrote.
It would not be his last. Manning has posted a 3–0 record in Arlington.
Manning is not the only Cowboys opponent enjoying success in the place ESPN analyst Chris Carter called, "That night club the Dallas Cowboys call a football stadium." The Cowboys' overall record (to date) in the new stadium is 14–11. That amounts to a .56 winning percentage, barely above .500.
Of course, the underwhelming performance in the new stadium has everything to do with the teams Jones and his cronies have fielded and little or nothing to do with the new digs.
December owns Tony Romo and his Dallas Cowboys.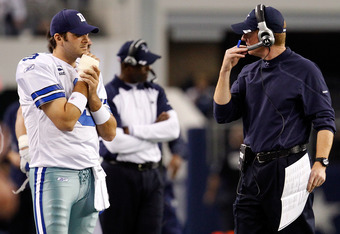 Tom Pennington/Getty Images
For Tom Landry, December was important. The legendary coach that led his team to 20 straight winning seasons, five Super Bowl appearances and two Lombardi trophies talked about streaking into the playoff. He put emphasis on playing your best football when it counted most.
Romo would, apparently, disagree with Landry. The current Cowboys QB has posted a December record of 8-13. But he feels like people who pay attention to that sort of thing are just silly.
John Machota of DallasNews.com quotes Romo on the subject:
"The problem with December sometimes is I don't know how many times you're out of the playoffs, in the playoffs," Romo said. "That stuff plays a role. Sometimes you're sitting starters. Sometimes you don't. Sometimes you've got Philly, Baltimore and the Giants to finish the year.

You need to make it over 15 years is what you need to do, not four or five years. It's just silly. Any stat you can make over a short period of time. That's four games. Stats are just stuff, in that regard, they come and go with whatever's in vogue recently."
See? Stop worrying about how the Cowboys perform in December, you silly ol' fan.
Who really owns the Dallas Cowboys? Jerry Jones does, of course! And he does not care how far into the ground he has to grind the once-proud franchise in order to prove it is his team and he will run it his way.
And so, if you are that lifelong fan who refers to the Dallas Cowboys as "my team," you will just have to come to the stark realization that these are not your Daddy's Cowboys. They are not yours, either.
These Cowboys belong to Jerry "Blankety-Blank" Jones...and Andy Reid...and Eli Manning...and the cold, lonely howl of a lost December.