Krys Barch Discusses Adjustment After Trade To Florida Panthers
December 28, 2011
Dave Sandford/Getty Images
When it came to making a good first impression on one another, Krys Barch and his Florida teammates instantly clicked.
The hours and first few days in the aftermath of his trade to the Florida Panthers from the Dallas Stars on December 7 was hectic, to say the very least.
So when Barch, who was dealt to the Southeast Division club in exchange for forward Jake Hauswirth and a fifth-round pick in 2012, made his debut on December 8 in Boston, he wasted little time in showing his teammates what he was all about, dropping the gloves with Bruins enforcer Shawn Thornton and playing a robust, physical style.
His new teammates, in turn, made him feel welcome when he joined up on their flight to Buffalo.
"First impressions, in any walk of life, always seem to say a lot," said Barch, who played his junior hockey with the London Knights of the Ontario Hockey League, where in three years, he had 123 points in 187 games while tallying 206 penalty minutes.
"The guys invited me to sit at the card table during the flight and I got to know a little more about them," he added. "I couldn't have asked for it to go any better."
His teammates are glad to have in the mix.
"He's a great guy, someone who sticks up for his teammates and comes to play every night," defenceman Jason Garrison, who will be profiled on NHLPA.com in the coming weeks. "We're happy to have him here."
The move is something new for Barch, who was selected 106th overall by the Washington Capitals in the 1998 NHL Entry Draft, but went unsigned, eventually inking a free agent contract with the Stars on July 18, 2006.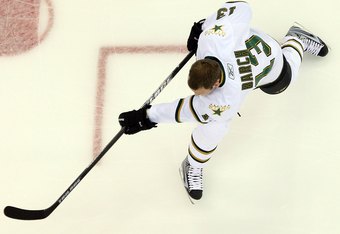 Jim McIsaac/Getty Images
"I've never been traded at any point in my career, even dating back to junior," Barch said. "You don't know what to expect, but so far, so good."
Barch, who made his NHL debut in the 2006–07 season on January 15, 2007, against the Los Angeles Kings, can also the same for his wife and kids.
The 31-year-old forward said:
I don't think it's as tough on the player as it is on their significant other. For me, I get to have that tunnel vision, just focusing on playing hockey. But there's a lot left to do and to take care of when a trade happens. I got to see my wife for about 15 minutes after our game against the Rangers in New York, and then we had to get on the plane. We each have our own list of what we have to do, including calling back the NHLPA. I find myself having to write everything down these days.
Barch's two children had but one request when they were given the news they would be moving from Texas to Florida. Barch, who is moving closer to 300 games of NHL regular season experience, offered:
They are four-and-a-half and two-and-a-half, so the first thing they wanted to know was if they could stay in Dallas until after Christmas so that Santa could come. After we assured them Santa would be coming, they seemed to be relieved. Change is hard for anyone to deal with, but we're looking forward to this opportunity.
Barch won't be altering his on-ice style with the Panthers. Barch, who has appeared in only three NHL playoff games to date, said:
Whatever it takes to get the win, to provide the team with a lift, that's my role and that's what I want to do. One thing that was obvious the moment I got here was the commitment to winning. Everyone works hard in practice and in games. There's a good focus and intensity.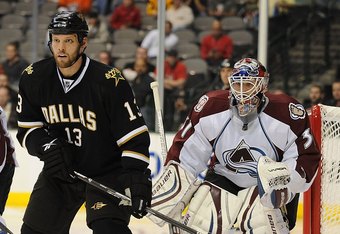 Ronald Martinez/Getty Images
Which are accurate terms in describing Barch's blue-collar game. Barch said:
It's been a short time, but I feel good about being here. I'll have a bit of a break to go back to Dallas to see my family for Christmas and then fly back to Florida. They'll be joining me here in mid-January.
As for what he'd like to get for Christmas, Barch is hoping to find a nice place to live.
"Could you find me a nice rental property?" he laughed. "That would be a big help."
Until then, Barch will look to keep delivering on the ice, all the while feeling right at home in his new surroundings.
Visit NHLPA.com for more player news and videos.
Unless otherwise noted, all quotes were obtained first-hand.