DeMarcus Cousins Is the Key to the Future for the Sacramento Kings, Not Evans
December 28, 2011
Ezra Shaw/Getty Images
From the day he was drafted in 2009, Tyreke Evans was anointed as the face of the franchise. The ball was put almost exclusively in his hands from his first game on, they dealt away Kevin Martin to clear a crowded backcourt, and they've mixed and matched multiple guards to cater to Evans' unique skills.
After two-plus seasons, the book is far from complete on Evans as a player, but a few chapters have been written. This much we know about Evans: He came into the NBA as a 20-year-old prodigy, boasting a chiseled, NBA-ready 6'6", 220 lb. frame and the ball-handling skills of Chris Paul.
His ability to get to the basket is among the best in the league; sometimes using his immaculate footwork and other times using his clever Euro-step maneuvers.
But we also know that his basketball IQ is embarrassingly low, he is completely clueless in the pick-and-roll, he doesn't make his teammates better, he turns the ball over too much, and he has a very unreliable jump shot.
That's a lot of flaws for a "franchise player." Now granted, Evans is still only 22 years old and has several years to develop his play-making skills. But from his rookie year to this point, show me where he has improved. He hasn't. The fact that the long list of his inadequacies is still largely in tact is concerning.
So if Evans, the first Sacramento era player to ever win the Rookie of the Year award, isn't the future of the Sacramento Kings, then who is?
DeMarcus Cousins.
Kings fans have seen some of the best and worst that the enigmatic Cousins can bring to the table. They've seen his brilliance in the post, his soft touch from 17 feet, his pristine dimes to cutting teammates and they've seen him snag rebounds with the greatest of ease with his soft hands like Chris Webber used to do a decade before him.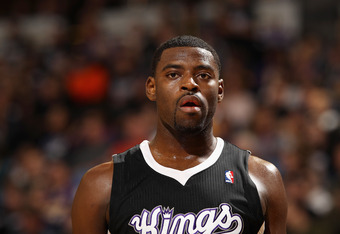 Ezra Shaw/Getty Images
They've also been subject to his laissez-faire attitude at times, temperamental outbursts, picking up cheap fouls, lazy defense and lengthy disappearing acts during games.
But even with all that said, there are so many things that make Cousins such an intriguing prospect.
He is, by far, the best back-to-the-basket scorer on the roster, and he just turned 21 a few months ago. He can finish with either hand, has a solid understanding of basic post-move concepts and has various counter moves at his disposal at well.
His shooting range extends nearly to the three-point line. He is unselfish and understands the importance of getting others involved, and thus is very willing and adept to create scoring opportunities for teammates.
Defensively, he already has a great understanding of where to position his body, how to use his considerable length to challenge shots and a willingness to take charges.
And while Cousins has gotten himself in trouble with his antics and immaturity, it has by in large come with good intentions. It's almost always a matter of him caring so much about the game. I'd rather have that than a guy who appears to not give a damn about the result.
In a game late last season at home against the Oklahoma City Thunder, Evans took a forced, quick shot resulting in a loss and Cousins confronted him on the court about it. Donte Greene intervened, and ultimately Cousins was kept off the team's plane and wasn't welcome to accompany the team to Phoenix.
Evans and Cousins are both very young and are both very early in their careers. Ideally, these two will both continue to improve and develop into All-Star caliber players.
This is not a knock on Evans. I recognize all of his talents and the gifts that he was blessed with, but as a basketball fan and purist, I'd like to see him develop into something more than a runaway train heading towards the basket.
I see it already in Cousins. He gets it. He makes his fair share of boneheaded plays, but for the most part, he plays a very intelligent brand of basketball.
If Cousins continues to work hard on his game, approaches the offseason the right way and allows himself to be coached and take criticism, the sky is truly the limit. Cousins has the talent to realize his potential as a perennial All-Star, a slightly lesser Chris Webber, a harder working Rasheed Wallace, a disciplined Derrick Coleman.
Guards who can dribble and get to the basket aren't terribly difficult to replace. The Kings essentially have a version of Evans on the roster already in John Salmons. Big men with the gifts that Cousins is blessed with are few and far between.
There would be a massive void if Cousins wasn't in the lineup as the offense wouldn't run as smoothly and defensively the paint would be free and clear for layup lines. For my money, if I had to place an "untouchable label" on just one of these two phenoms, I'd put it on Cousins, without question.