Cleveland Cavaliers Rotation Is Still a Work in Progress
December 28, 2011
Mike Lawrie/Getty Images
I wrote in my season preview column that the Cavaliers would struggle with a lack of depth this year.
On Monday night I didn't expect the bench to do what they did; it was obvious from the first line change, that they had more energy and enthusiasm than had the starters.
The only starter that showed any energy to me was Anderson Varejao, who I thought had a very good game. I can't express how glad I am to have him back and healthy.
But Kyrie Irving looked tentative at times and a little over-whelmed. Omri Casspi was basically invisible. Anthony Parker and Antawn Jamison looked very old. (It's a good thing for them that this isn't a super compressed season with tons of back-to-backs or anything).
The bench on the other hand played with hustle and energy. They were the sole factor in keeping the Cavs in the game.
Ramon Sessions actually tried on defense, and even more importantly, found a jump shot during the lockout.
Daniel Gibson was his usual opportunistic offensive self, and busted his butt on defense as the only guy in wine and gold who did anything to slow down Leandro Barbosa.
Alonzo Gee was fantastic for Alonzo Gee standards. I probably hated on Gee more than anybody this offseason, so I'm willing to say that I liked the way he attacked the rim. But, he didn't force too much.
I can say along with everyone else, that we're glad he didn't break his back—especially considering that he had just traveled, and the points didn't count anyways.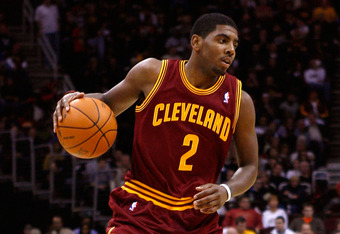 Mike Lawrie/Getty Images
I was thrilled with what we saw from Tristan Thompson. He's going to be a work in progress all year, but I think we saw a glimpse of what made him valuable enough to take that high in the draft.
Ryan Hollins is still a stick with very little actual talent. It seems that Samardo Samuels must be in Byron Scott's dog house because of his weight or something. There's no reason he should be losing minutes to Hollins.
Now that that's all laid out—Byron Scott's rotations puzzled me.
He basically did full line changes: five guys on, five guys off. This works well in video games but not in real life. It messes with the flow of the guys on the court.
I also think this was a big factor in why Irving struggled so much. He was out there with two wings that did nothing, but spotted up for jumpers. Jamison, who shot the ball just about every time it was passed to him, missed most of them.
I would have really liked to see Ramon Sessions on the floor with Irving. Give the rookie another ball handler on the floor to lighten the load, and allow them to run and attack a little more.
I also want to see Irving on the floor with Thompson. If they're going to be center pieces of this rebuilding effort, then why not get their chemistry going now?
Also, I would like to see Thompson play alongside of Varejao a little. They might both be limited offensively, but it isn't like Hollins or Jamison gave us anything in the opener.
Plus they both have great energy and will hit the glass hard on both ends. I think that's an experiment that could be surprisingly effective.
While we're talking about the front court—we should really begin to consider limiting Jamison's minutes. I know I wrote that he should be a leader and all, but if Chris Grant and the Cavs expect to get anything of value from him at the deadline, then they should consider cutting his minutes, so the whole league doesn't figure out just how washed up he is.
Here's the bottom line: I bring up all these points in as much of an effort to remind myself, that this was just one game in what is still a long season, shortened as it may be.
The Cavs are a work in progress, and the rotation will be as well. I would be surprised to see Scott continually rolling out the same rotation game-after-game, if it keeps going like it did on Sunday.
He's a smart guy and coach.
And for all those that are already jumping off the Kyrie Irving bandwagon and onto the "we should have drafted Derrick Williams" bandwagon—it was one game.
Irving is only 19 years old. Let's give him at least till the end of the week.
You can follow Benjamin Flack on Twitter @ClevelandFlack.