Sacramento Kings Youth Means Team Should Avoid Trading This Year
December 28, 2011
Ezra Shaw/Getty Images
Before I get into what I'm trying to say, let me give you a little back story first.
I was raised in Sacramento and was one of the biggest Kings fans that you could find. The 2002 season, which saw us one game away from making it to the finals, was possibly one of the greatest years of my life.
The likes of Bibby, Webber, Peja, Vlade DiVac and Doug Christie were considered heroes in Sacramento, where the only professional team is the Kings.
Then management slowly started to get rid of each of those players, trading them for several bench players that never amounted to starters. And, they fired long-time Coach Rick Adelman, one of my favorite coaches who never got enough credit.
The Maloof brothers slowly killed the once dominant franchise, causing Sacramento fans to abandon the team that was nothing like who they rooted for at the start of the century.
Even I took a hiatus for several years as a Kings fan. I loved the team and was a true fan. The front office team was frustrating by getting rid of my icons.
The Kings should refrain from making any big trades this season.
This Sacramento team is possibly one of the youngest in leagues and will have success in the coming years, only as long as they are kept in-take.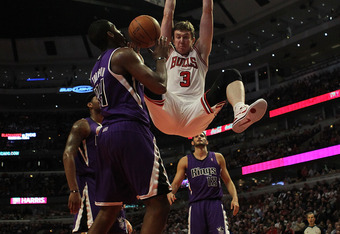 Jonathan Daniel/Getty Images
Tyreke Evans, Marcus Thornton, and DeMarcus Cousins will be the core of the franchise. These young players will be the reason for major success.
Chuck Hayes and John Salmons give the starting lineup two veterans to court-general the young, in-experienced roster.
Hayes could be seen all night directing his younger teammates on defense.
And then you add in Jimmer Fredette, possibly a second-coming of Peja, with his ability to sink the jumper from behind the ark. Isaiah Thomas, a small but electrifying guard who was in Kobe Bryant's face every chance he got.
Those two will sell tickets in Sacramento.
Those seven, plus JJ Hickson and Travis Outlaw, two veteran bench players who provide tremendous depth, should not even be thought of if the Kings plan on making a trade at all in the next few years.
If Geoff Petrie really wants to improve his team, trade away the likes of Francisco Garcia and Jason Thompson, two veterans who have never really done anything in their careers in Sacramento to amount to anything more than trade fodder.
Rookie Tyler Honeycutt and second year player Hassan Whiteside have upside, but could be used in trades as well to other teams. There just isn't a place for them in Sacramento.
All four of those players have no meaning in Sacramento. If the front office does anything, get rid of those guys.
Get rid of those guys to get a balanced mix of young players and veterans to add depth to a team with a bright, bright future.
Please Geoff Petrie and Maloof Brothers, don't make the same mistake again.
Keep this team together. Here they stay.