Pro Bowl Roster 2012: Deserving Snubs Who Will Replace Injured Stars
December 28, 2011
Whitney Curtis/Getty Images
Andy Dalton is one of many Pro Bowl snubs who should have made the original AFC and NFC rosters but will likely replace stars who will exit the event due to an injury.
The Pro Bowl is such a joke that players are bound to find an excuse not to go all the way to Hawaii to play in a meaningless game, so players like Dalton will probably get their chance to play in the game sooner or later.
Let's look at the deserving snubs who will rightly get a chance to play in the 2011 NFL Pro Bowl.
1. Victor Cruz
Victor Cruz had a better season than Larry Fitzgerald, yet the New York Giants breakout star was not selected for the Pro Bowl and the Arizona Cardinals receiver was.
I'm not saying Cruz is the better player, but he did have a better season than Fitzgerald and deserves a spot on the NFC roster.
Cruz came out of nowhere and played like an elite receiver in his second NFL season, and quickly earned the trust of quarterback Eli Manning. Cruz also played very well in the fourth quarters of games.
Cruz has to be the first wide receiver selected to the NFC roster if someone drops out. It's insane that he's not already on the team.
2. Cam Newton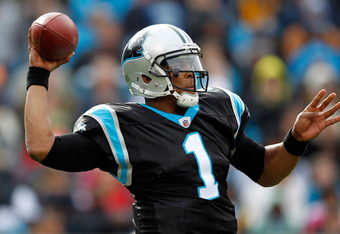 Streeter Lecka/Getty Images
Cam Newton is having one of the best seasons of any rookie NFL quarterback ever, yet he was left off the NFC roster in favor of Eli Manning.
Manning is having a career year and he has thrown for nearly 600 yards more than his career high, but Newton has been spectacular as a pocket passer and a running quarterback.
Newton has lived up to the hype after he was selected No. 1 overall by the Carolina Panthers in April's draft, and he proved his style of play was capable of being effective in the NFL.
With Aaron Rodgers or Drew Brees likely to make the Super Bowl this season (making one of them ineligible for the Pro Bowl), Newton will probably get a call to the NFC roster soon.
3. Andy Dalton
Andy Dalton has exceeded expectations this season and if he beats the Baltimore Ravens in Week 17, then his Cincinnati Bengals will make a trip to the playoffs.
Dalton has thrown 20 touchdown passes with 13 interceptions, which is pretty good for a rookie quarterback.
San Diego Chargers quarterback Philip Rivers made the Pro Bowl and he had a very disappointing season that included 24 touchdown passes with a career-high 19 interceptions.
Rivers also has a lot more weapons on offense to throw to, yet he still had a worse season than Dalton.
Dalton should be the first AFC quarterback to get a Pro Bowl spot for the AFC if Tom Brady or Ben Roethlisberger make the Super Bowl.
Even if Big Ben doesn't make the Super Bowl, his ankle injury will probably force him out of the Pro Bowl anyway.