A Tale of Three Quarterbacks, Part Two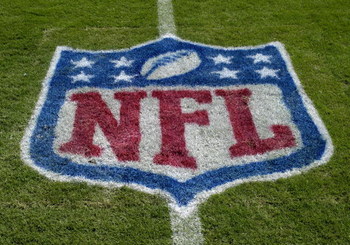 Hello again, fellow football enthusiasts.
When last we met, we discussed the paths taken by three of today's premier quarterbacks: Ben Roethlisberger, Peyton Manning, and Tom Brady. We discussed their successes and their struggles, and followed them through high school and college on their path to the pros.
I know I'm early; when i said "tomorrow" in the last article, it was prior to midnight.
Today I would like to dissect the NFL careers of Roethlisberger, Manning, and Brady—pick apart some performances, and look at both the tangible and intangible assets of each which have enabled them to separate themselves from the rest of the pack. We'll start with the draft, move to early years, talk about championships, and sum it all up at the end for each one..
I would like to say that by the end, we could put to bed which of these three can lay claim to Top Dog (I'm sill punning here...last time it was "Best in Show"...get it? No? Oh well...) in the competition for Best NFL Quarterback.
But that would be dishonest of me; I really am just trying to stir up trouble.
So, with that said, let's begin with some general info on each, then break down their stats (yes, I said stats; like them or not, they are relevant).
In the interest of fairness, Big Ben will be compared to the other two based on their first five years in the game. He's the baby of the group, so he hasn't had the time to compile the career numbers of Manning and Brady...yet.
Here we go!
Top Pick in the Draft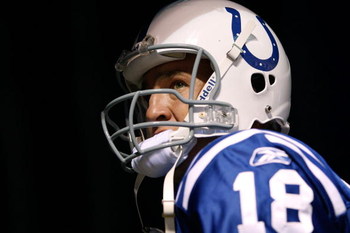 After completing a college career rife with highlights, Peyton Manning entered the 1998 NFL draft and was taken No. 1 overall, ahead of also heralded Ryan Leaf (who would require an entire slide show of his own to document his monumental flop as a pro quarterback).
He entered the NFL as the top pick in spite of concerns over his inability to win "The Big One" in college football. In Manning's last seasons as a Vol, he had one of the worst games of his college career against Nebraska in the Orange Bowl.
A win would have given Tennessee the national championship and vindicated beyond question Peyton's decision to return for his final year of eligibility to chase the trophy. Instead, Nebraska held him to 134 passing yards, and the Cornhuskers offense rolled up 400-plus yards rushing en route to a 42-17 defeat of the Vols.
Handed the reins to the offense the day he walked into camp, Peyton quickly impressed the Colts with his performance, justifying the later-signed six-year contract that made him the richest-paid quarterback in NFL history to that date.
First Round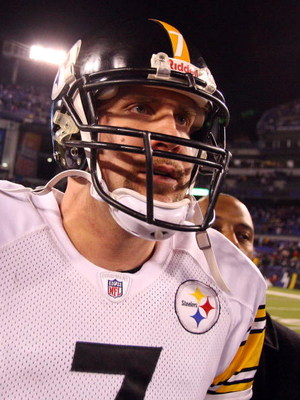 I bet you though we were gonna go in chronological order here, didn't you?
Nope. We're gonna go by position in the draft.
Ben Roethlisberger entered the NFL draft with numbers that were somewhat suspect, seeing as he came out of the Mid American Conference. However, the NFL was turning it's attention more and more to this "lesser" group based on the results it had seen from the likes of Chad Pennington, Byron Leftwich, and Randy Moss.
In the combine, he more than made up for coming from a smaller conference. He was already larger and stronger than other players in the MAC, but compared side-by-side with other players from throughout the NCAA, he matched up more than well enough to show he was the real McCoy.
It wasn't just his size that impressed scouts, though. It was his personality that really turned their heads. Serious about the game but possessing the ability to relax and enjoy himself, he earned high marks in this intangibles category, which elevated his draft potential.
Big Ben was ultimately picked 11th overall by the Steelers, who saw him as an immediate backup with probabilities of becoming their starter in the near future.
If they only knew what was in store.
199th? I Should Have Gone Early!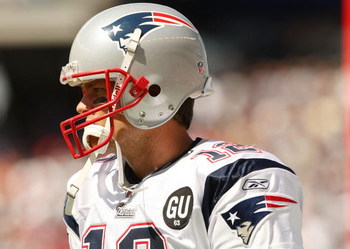 Tom Brady entered the NFL Draft in with high hopes of being selected in the first few rounds by someone, anyone, who was looking for a solid quarterback with a stellar work ethic. However, as round after round passed without a pick, Tom grew increasingly frustrated with the possibility that no one wanted him.
Allegedly, he let out his frustrations on the family shrubbery starting about mid-draft.
There wasn't anything particularly wrong with Brady. He was tagged as a hard-working, fearless, and accurate passer. But he got low marks in mobility, arm strength, and overall durability. At 6'4" and 205 pounds, his size gave scouts reason to believe he would be no better than a career backup.
Bill Belichick apparently saw something, though, and the Patriots selected him at No. 199 with a compensatory pick. He joined Michael Bishop of Kansas State in bench-warming duties, with Belichick hoping one of the two would develop into a solid second-stringer.
Once again, fate would have different plans.
The Job is Yours; Now Go Win Some Games
Peyton Manning was the starting quarterback almost from the moment he signed with the Colts in 1998. Coming off of a year with the NFL's worst record (the Lions actually finished 9-7 in 1997, but returned to form the next year), Indianapolis had nowhere to go but up.
With a defense that couldn't stop a prep school offense, the Colts finished Manning's rookie season at 3-13, matching their record from the previous year. For his part, Manning was criticized for his "happy feet", referring to his apparent inability to drop back in the pocket and set his feet. They were constantly moving, giving him the appearance of a quarterback who wasn't sure if he was going to throw the ball or have to run for his life (which he did frequently the first year).
Despite the team's poor showing, Manning managed to pull a few positives from the year. He developed an excellent chemistry with Marvin Harrison, who quickly became his "go-to" guy when Peyton needed a big play.
His dedication to fitness and improvement caught the eye of Harrison, who was also a workout hound. The time they spent together in the gym and on the practice field led to their being in perfect sync by the end of the season, with Harrison catching 59 passes, seven of which were for touchdowns..
Manning's 575 attempts, 326 completions, and 3,729 passing yards broke the records for first-year quarterbacks.
His 26 touchdowns placed him second in Colts history behind one Johnny Unitas.

And his dedication to the game had him playing every game, every, play, and taking every snap. He was the first quarterback in Colts history to do so.
Despite his early successes and multiple personal accomplishments along the way, Peyton would have to wait until his ninth pro year before shaking the moniker of "Best Quarterback to Never Win the Big One."
Big Ben's Big Break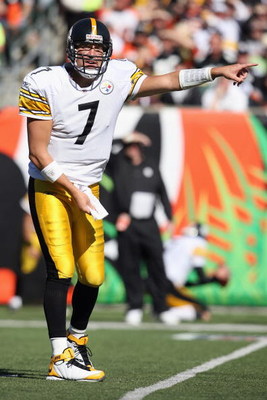 Ben Roethlisberger was listed as the No. 3 quarterback behind Starter Tommy "Gun" Maddox and Charlie Batch. The intention was to give Ben time to immerse himself in the Steelers' run-oriented offense and give him time to study the game without a lot of pressure.
This was not to be. Maddox went down in the second game of the year, and with Charlie Batch already down to an injury sustained in the preseason, the MAC phenom was thrown to the lions.
Or so everyone thought. Roethlisberger quickly went about showing everyone why he was a college star, and that maybe, just maybe, he was a bit underpaid. As a rookie quarterback he went undefeated as a starter, winning 13 straight and leading the Steelers to the AFC Championship— ironically against the Brady-led New England Patriots.
It took Roethlisberger just one more year to reach the Super Bowl, where despite a dismal passer rating of 22.6—the lowest ever for a winning quarterback—he converted some key third downs, including a third-and-goal sneak for a touchdown to get the Steelers the win and become the youngest winning quarterback in Super Bowl history.
The record he broke? Tom Brady's, set in 2001.
Along the way, he set the record for most consecutive regular wins as a rookie—13 his first season, followed by the first two games of his second season before finally losing one, making his first "complete" season record 15-1—was selected unanimously as the NFL Offensive Rookie of the Year by the AP, a feat which hadn't been managed by a quarterback in 34 years, and showed the football world that he was more than just a big kid from a small conference.
He was the real deal.
Patience Pays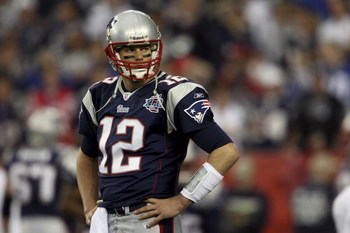 After sorting himself out and apparently deciding that landscaping with a baseball bat didn't hold too many long-term career prospects, Tom Brady reported to the Patriots' training camp ready to go. As a backup quarterback he watched all but one game without playing a down as New England went 5-11.
In his sole appearance his rookie year he managed to complete one pass for six yards, playing mop-up duty as the Patriots fell to the Detroit Lions 34-9 (good grief, the Lions again?)
Year two saw a change not only in Tom's physical abilities, but also in his career potential. During his rookie year he had plenty of time to work out and improve his game, and he reported to camp 15 pounds heavier and with markedly improved footwork. The payoff was being named the second-string quarterback behind Drew Bledsoe.
It appeared that another slow climb to the starting position was under way.
Once again, however, fate inserted her fickle finger into the mix. Drew Bledsoe took a hit from Mo Lewis of the Jets that was so vicious it was ultimately revealed to have ruptured a blood vessel in Drew's chest, nearly killing him. With Bledsoe sidelined, the job fell to the skinny kid from San Mateo.
Brady's response to the challenge was nothing short of amazing. Although he struggled a bit in a few games, he led the Patriots to an AFC East title, going 6-3 as a starter, and the Patriots ended the season 11-5 with a first round bye.
The Patriots almost saw their improbable postseason run ended against Oakland, when Brady appeared to have been sacked and fumbled the ball, which was recovered by Oakland.
Walt Coleman—of Ed Hochuli notoriety following his overturned call in Pittsburgh this year—saw things differently. Invoking the rather new "tuck rule," which stated that any forward movement of a quarterback's arm instituted the beginning of a pass, ruled the play an incomplete pass, and suddenly the fumble that was became the fumble that wasn't.
The Patriots went on to the AFC Championship game in Pittsburgh, the No. 1 seed and Super Bowl favorites. Brady was hurt in the second quarter, and Bledsoe, who had been cleared to play again, stepped in and led the team to the AFC Championship.
Brady and Bledsoe's relationship had cooled over the course of the season. Drew felt slighted that he had not been returned to the starting position after his return from injury—according to the unwritten rule of pro quarterbacks, the starter gets his job back when he returns from injury, no matter how well the backup played.
But Bledsoe's performance in the AFC Championship wasn't enough to keep him at the top. Brady returned for the Super Bowl against the heavily favored St. Louis Rams, quite possibly at the player's behest—the announcement of Brady as the starter was met warmly by the team, with the obvious exception of Drew Bledsoe.
The high-flying aerial attack of the Rams lead people to believe that this was going to be a blowout. Instead, Brady and the Patriots executed a game plan that had them up 14-3 at the half and eventually led to a 20-17 victory over the highly favored Rams.
Despite his workmanlike numbers of 16-of-27 for 145 yards and one touchdown, Brady was named the game's MVP and became at the time the youngest winning quarterback in Super Bowl history.
And so a new era began in New England. All the years of heartache, hard work and frustration were finally paying off.
Moving Beyond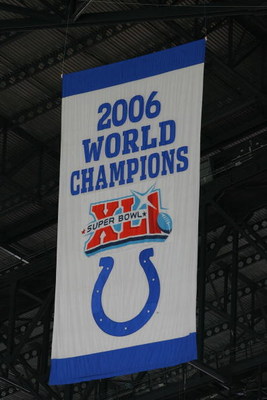 This is where the picture becomes muddled. All three quarterbacks saw success an their first two years in the league, whether personal or team-related. Two of them made it to and won the Super Bowl, one of them an amazing three times.
All three have continued to see success and set personal milestones throughout their careers. And all three have a legitimate claim to being voted into the Hall of Fame at the end of their careers. Yes, even Roethlisberger. He's been in the league five short years, and has plenty of gas left in the tank—provided the Steelers start protecting him so he doesn't get his head taken off.
It is here that we truly begin to compare key statistics in an effort to differentiate amongst the three. Somehow or another, one of them has to come out on top, and hard statistics are one of the guidelines that must be used. And yes, I realize that many of the stats are dependent upon the overall play of the team but that does not make them any less relevant.
Quarterbacks like Joe Montana, John Elway, Troy Aikman, and Terry Bradshaw wouldn't have had the Hall of Fame-type careers careers they enjoyed without their supporting casts. And I defy anyone to tell me that those guys are not deserving of their accolades.
Hang on, this is where people start to get kinda pissy.
One last note: Ben Roethlisberger's number stats will be compared to the stats of Manning and Brady's first five years.
It's my evaluation; I'll manipulate the numbers any way I see fit. Three points for being first, two for second, and one for third place.
Onward we go.
Roethlisberger Key Statistics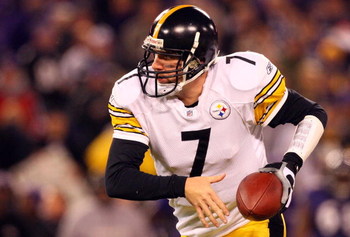 Years in the league: Five, all with the Pittsburgh Steelers.
Years as starter: Five = 1st
Wins, Regular Season: 51—NFL Record for wins in first five seasons = 1st
Completion percentage: 62.4% =1st
Yardage: 14,974 = 2nd
Touchdowns: 101 = 2nd
Number of Super Bowl Wins: 1 = 2nd
Passer Rating: 89.4 = 1st
Winning Percentage: 72.2% = 2nd
"Perfect" Games: 3 = 1st
"Perfect" Games in a Season: 2 = 1st
100+ ratings: 1 =1st
Postseason Record: 5-2 = 2nd
Interceptions: 69 = 2nd
Touchdown-to-Interception Ratio: 101:69, plus 32 = 3rd
Rushing Yards: 616 =1st
Attempts: 188 = 1st
Yards per Attempt: 3.3 = 2nd
Rushing Touchdowns: 10 = 1st
Longest Rush: 30 yards = 2nd
TOTAL POINTS: 47
Manning Key Statistics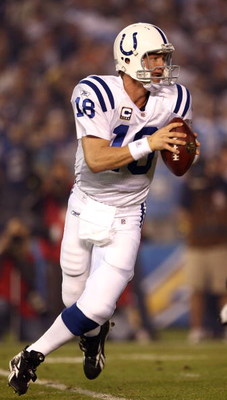 Years in the league: First Five, with Indianapolis Colts
Years as Starter: Five = Tied, 1st
Wins, Regular Season: 42 = 3rd
Completion Percentage: 62.1 = 2nd
Yardage: 20,618 = 1st
Touchdowns: 138 = 1st
Number of Super Bowl Wins: 0 = 3rd
Passer Rating: 85.8 = 2nd
Winning Percentage, Regular Season: 52.5 = 3rd
"Perfect" Games: 2 = 2nd
"Perfect" Games in a Season: 1 = 2nd
100+ ratings: 0 = 2nd
Postseason Record: 0-3 = 3rd
Interceptions: 100 = 3rd
Touchdown-to-Interception Ratio: 138:100, +38 = 2nd
Rushing Yards: 556 = 2nd
Attempts: 160 = 3rd
Yards per Attempt: 3.5 =1st
Rushing Touchdowns: 9 = 2nd
Longest Rush: 33 yards = 1st
TOTAL POINTS: 37
Brady Key Statistics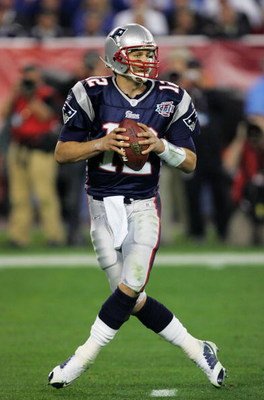 Years in the league: First Five, with New England Patriots
Years as Starter: Four = 3rd
Wins, Regular Season: 48 = 2nd
Completion Percentage: 61.6 = 3rd
Yardage: 13,925 = 3rd
Touchdowns: 97 = 3rd
Number of Super Bowl Wins: 3 = 1st
Passer Rating: 78.6 = 3rd
Winning Percentage, Regular Season: 74.3 = 1st
"Perfect" Games: 0 = 3rd
"Perfect" Games in a Season: 0 = 3rd
100+ Ratings: 0 = 2nd
Postseason Record: 10-1 = 1st
Interceptions: 66 = 1st
Touchdown-to-Interception Ratio: 123:66, +57 = 1st
Rushing Yards: 244 = 3rd
Attempts: 163 = 2nd
Yards per Attempt: .6 = 3rd
Rushing Touchdowns: 2 = 3rd
Longest Rush: 15 yards = 3rd
TOTAL POINTS: 32
And The Winner Is...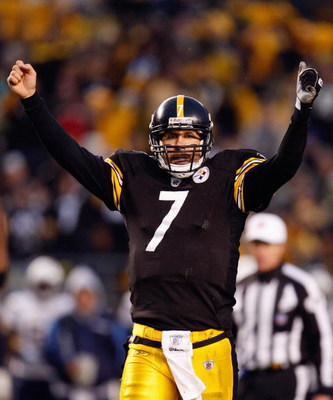 Come on; you knew this was coming. Tell me you didn't.
With 47 points, big Ben outdistances both Manning and Brady over the first five years.
Yeah, I know. Career stats are what matter, and both Peyton and Tom have improved stats after their first five years in the league. I told you up front how this was going to go, you just didn't listen.
Were you actually holding out hope that I would be surprised by the results? Not gonna happen.
These are my points of contention. Show me yours and we'll talk.
Hope you enjoyed the show!
Keep Reading