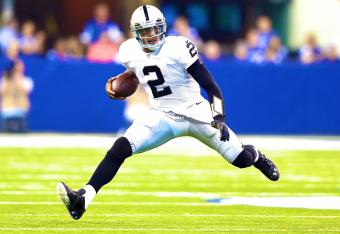 It will still goes down as a 21-17 loss, but the Oakland Raiders almost pulled off one of the biggest upsets on NFL's opening weekend against the Indianapolis Colts. A big reason the Raiders played so well was quarterback Terrelle Pryor in just his second career start.
Pryor was 19-for-29 passing for 217 yards and a touchdown and added 112 yards on the ground. Unfortunately for Pryor and the Raiders, there were also a few negatives. Pryor had two interceptions, took a costly sack on 1st-and-goal from the 8-yard line at the end of the game and had a lot trouble getting the offense out of the huddle.
Even though he was hardly perfect, the positives for Pryor far outweighed the negatives and can only be described as a success. The early signs also seem to indicate that Pryor should be able sustain this success, giving the Raiders a chance to win every week even if his own personal statistics regress.
Many of Pryor's mistakes are quickly correctable. The interceptions, the sack and getting the team out of the huddle are all things that either shouldn't be an issue going forward, or the team is willing to accept as long as Pryor is also making big plays. However, it's those mistakes that cost the Raiders the game.