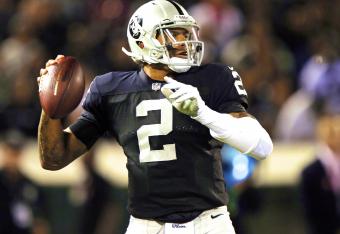 The Kansas City Chiefs and Oakland Raiders are both fighting for legitimacy this weekend at Arrowhead stadium. The 5-0 Chiefs need to keep winning to prove that an easy early schedule isn't the reason for their fast start, while the Raiders are trying to prove they are more than a surprise 2-3 team.
It's not quite a playoff environment, but it has the potential to feel that way because Chiefs fans will be attempting to break the Guinness world record for loudest crowd roar in an outdoor sports stadium. Rivalry games are usually the most fun when there is a lot at stake for both teams.
One player's performance this week could shape his future. If Raiders quarterback Terrelle Pryor shows well against the No. 1 defense in football, he'll be labeled the undoubted future of the franchise. Can Pryor succeed where others have failed and expose the Chiefs defense?
Despite Pryor's drastic improvement from last season to this season, he really hasn't made a huge leap from game to game, nor has he had a major setback in any game. It's been slow and steady progression since Week 1 for Pryor, which, in many ways, is better than a lot of ups and downs.