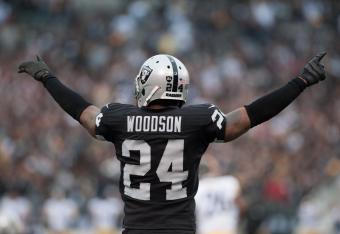 Charles Woodson's return to Oakland has been a success.

Imagine what Oakland Raiders general manager Reggie McKenzie would like to say to all the NFL analysts who said his team was the least talented they had ever seen. Some adjectives commonly used to describe the roster were "horrible" and "pathetic."
Prior to the season, the Oakland Raiders were considered one of the two worst teams in the NFL. Expectations could not have been lower, but nearly halfway through the season they are 3-4 and can move to .500 with a win over the Philadelphia Eagles at home on Sunday.
After suffering through a 4-12 campaign in 2012, the Raiders had to make drastic changes. To McKenzie's credit, he didn't drag out the process and, along with head coach Dennis Allen, has the Raiders on the verge of respectability.
If the Raiders win Sunday, they will equal their win total from last year. It's not quite a turnaround like that of the 2012 Indianapolis Colts or 2013 Kansas City Chiefs, but it's still impressive.