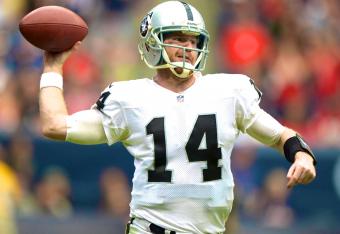 USA Today
A young man from West Scranton, Pennsylvania walked on at Penn State and not only won the starting job at quarterback but broke school records for most passing yards, touchdowns and completions in a season. When his college career was over, quarterback Matt McGloin was Penn State's career leader in touchdown passes.
That wasn't enough to get McGloin a combine invite or drafted, however, as the Oakland Raiders signed him as an undrafted free agent this offseason to be a "camp arm." At the time, McGloin had three players ahead of him on the depth chart, and the team had little motivation to give him an opportunity to do much.
McGloin is somewhat of an expert in defying the odds, because he did it in college and is doing it again with the Raiders. Although it might be hard to explain how he does it, there is certainly something to McGloin's knack for vastly exceeding expectations.
About a week into training camp, McGloin passed rookie fourth-round draft pick Tyler Wilson on the depth chart. Wilson was called one of the best quarterbacks in the class by some draft analysts, prompting some people to wonder if he would start at some point this season.