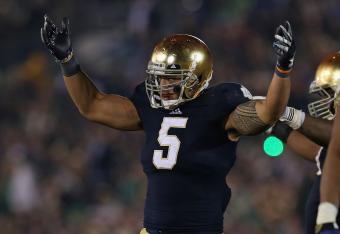 Jonathan Daniel/Getty Images
Eventually Manti Te'o is going to lace up his cleats and take the field as a football player for the San Diego Chargers and hope to make everyone forget he was the victim of a hoax. If Te'o becomes a good NFL player, the jokes will be retired and the whole ordeal will become just a footnote on his career.
Although Te'o didn't look like a great middle linebacker prospect on tape and the National Championship game against Alabama highlighted some of his weaknesses, he landed in a perfect spot as an inside linebacker in John Pagano's 3-4 defense.
In a 3-4 defense, Te'o's ability to play downhill will be highlighted and he won't be asked to cover tight ends and running backs one-on-one regularly. At most, Te'o will be asked to drop into short zones and play the receivers in front of him, and he will probably not play in nickel and dime situations.
When Te'o played middle linebacker at Notre Dame, his responsibilities included stopping the run and the pass—he couldn't just focus on the things he does best. Part of the beauty of the 3-4 defense is being able to take players that otherwise may not have an NFL fit and making them productive contributors.