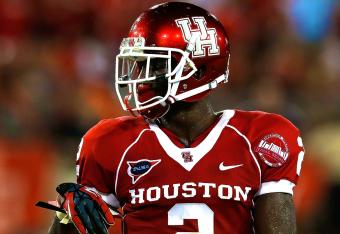 Make no mistake; every NFL team would love to have a Darrelle Revis. Not every team would be willing to take a risk on his knee and pay him what he demands, but every team would love to have his consistent production. Revis is still the prototypical cornerback that everyone wants because he does everything well and can shadow and shut down No. 1 receivers.
When looking at the 2013 rookie class, only one has the chance to be the next Revis, and it isn't the player that replaced him in New York. The next Revis is actually University of Houston cornerback D.J. Hayden.
In what was a one of the biggest surprises of the draft, the Oakland Raiders traded down from No. 3 to No. 12, didn't draft University of Florida defensive tackle Sharrif Floyd and selected Hayden. The Raiders were even willing to take Hayden at No. 3 if no trade had materialized.
Drafting Hayden that early only makes sense if he can be the next Revis.