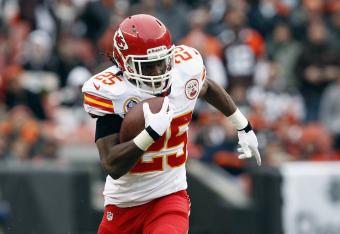 Jamaal Charles might be the most important player in Kansas City.
Matt Sullivan/Getty Images
Quarterback Alex Smith and running back Jamaal Charles are part of a co-dependent football relationship. To be successful as a team, Charles needs Smith to play well and vice-versa.
One of the two players will be more important to the Chiefs in 2013 but determining which one is no easy task. If you have ever tried discussing with your spouse who pulls more weight around the house, you know what I am talking about.
Just like the Newlywed Game, the couple with the least history is usually at a disadvantage. Until the relationship goes through the ups and downs of an NFL season together, we just don't know for sure who is more important.
At this point in time, Charles is like my wife and worth way more to the overall operation despite the appearances. Smith—like me—is seemingly in a more important overall position, but he is flawed and almost totally dependent on the relationship to be a productive member of the team.