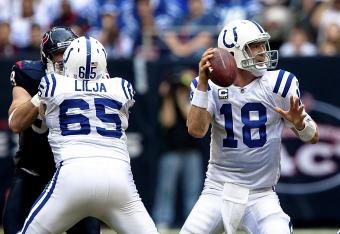 Ryan Lilja will be blocking for Peyton Manning once again.
Bob Levey/Getty Images
The Denver Broncos' starting center was J.D. Walton, but he is out until at least October—if not the entire season—after having surgery on his ankle. Backup center Dan Koppen tore his ACL, so he's also out for the season.
With their top two options at center out, the AFC favorites were without a solid starter at a key position on the offensive line. While they could survive with Manny Ramirez as the starting center, the Broncos made it pretty clear last year they didn't trust him, as Chris Kuper was rushed back from injury when Ramirez was filling in at right guard.
It was smart of the Broncos to bring in a veteran player like Ryan Lilja, who is a massive upgrade over Ramirez. In fact, Lilja may be an upgrade over Koppen and Walton—he brings that much to the table for the Broncos.
Lilja has prior experience playing with Peyton Manning, which shouldn't be understated. Manning has a lot of input on the players that play and he has a vested interest in making sure he's properly protected. If Manning doesn't trust you, there's a good chance you aren't going to see a lot of playing time on offense.