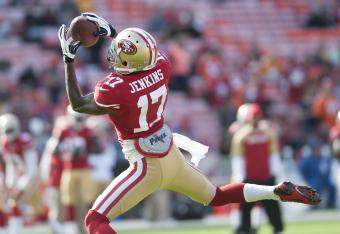 Ed Szczepanski-USA TODAY Sports
First-round draft picks are a terrible thing to waste, and by most accounts wide receivers Jon Baldwin and A.J. Jenkins have been just that. The Kansas City Chiefs selected Baldwin with the 26th pick in 2011, and the 49ers selected Jenkins with the 30th pick in 2012. Neither has been anything closely resembling an impact player.
Baldwin has 41 catches in two seasons, and Jenkins didn't have a single catch for the 49ers during his rookie season despite a shallow depth chart. Instead of simply releasing the two draft busts, the teams announced on Monday that they have swapped them via trade. The general idea is likely that a change of scenery could be good for the talented young players.
It was a good trade for both sides because they both salvaged value out of players who would be on the chopping block if not for guaranteed contracts, but beyond that it's tough to expect either side will come out of it a winner. Odds are probably against the trade providing a positive outcome for either team, but the talent of the two players makes it a worthwhile gamble.
From the Chiefs' perspective, they also traded for a guy who played with their starting quarterback last season. Chemistry between a receiver and quarterback can be a big deal, so the Chiefs will have a head start on trying to get something out of Jenkins.