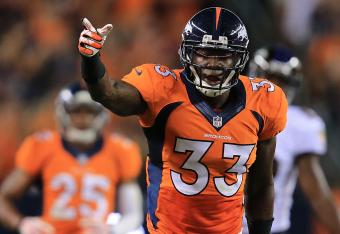 Duke Ihenacho showed why the Broncos made him one of the starting safeties.
Doug Pensinger/Getty Images
Lost in quarterback Peyton Manning's incredible seven-touchdown performance on Thursday night in Denver was the stellar play of the defense—especially the secondary minus Champ Bailey. It was also a defense without linebacker Von Miller.
Subtract the touchdown that was basically the result of wide receiver Wes Welker's muffed punt inside the 5-yard line, 10 garbage-time points and linebacker Danny Trevathan's touchback that should have been a touchdown if he didn't drop it before crossing the goal line and Denver's defense was just minus-three on the night.
Early on, it appeared as though the Broncos would miss Miller as a pass-rusher as Joe Flacco had all kinds of time in the pocket. Flacco marched the Ravens down the field for a touchdown on their second drive of the game, and it looked like the Broncos could be in trouble, but the defense clamped down.
The only reason Manning had enough opportunities to throw seven touchdown passes was because the defense was continually putting the ball back into his hands. Give Manning enough opportunities and he will make plays, just as he did on Thursday night.