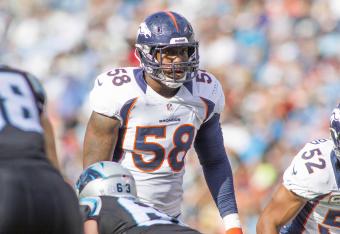 Jeremy Brevard-USA TODAY Sports
Unless you've been binge-watching The Walking Dead on Netflix for the past week, you've no doubt heard that Denver Broncos quarterback Peyton Manning is squaring off against his former team on Sunday night. Strike that, you probably received a Team Stream notification—or seven—on your iPad about it.
You know all about the overblown comments made by Jim Irsay, the outspoken owner of the Indianapolis Colts. The noise pollution of Manning vs. Andrew Luck has violated your eardrums more times than you can count. It was all a bit fascinating, but now you are screaming for a conclusion about as badly as you were around Episode 10 of Season 3.
Maybe you forgot about the real story and got lost in the characters. Just in case you got distracted, the real difference-maker in this game is going to be linebacker Von Miller, who will be activated in time to play on Sunday after serving a six-game suspension for violating the league's substance-abuse policy.
Miller somehow became the forgotten storyline, but come Sunday night, that will all change. Miller is Denver's not-so-secret weapon against the Colts—capable of taking over games by making the opposing quarterback's life a living hell.