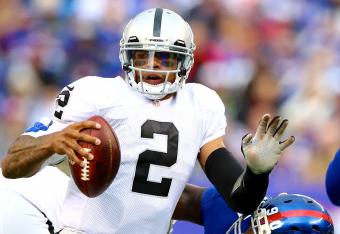 It lasted four games and it was fun, but the days of Terrelle Pryor looking like the Oakland Raiders' long-term option at quarterback are gone. Four games gone to be precise, but it took a month for confirmation.
On a windy Sunday in New Jersey, Pryor successfully erased all the hope and optimism he brought to the Raiders during the early part of the season. The Raiders lost 24-20 to the New York Giants because of Pryor's poor passing performance—his fourth in a row.
When Pryor was named the starter in Week 1, he had 16 games to prove he was the long-term answer. After eight starts, Pryor hasn't proven anything.
With just seven games left, he's just about out of time.