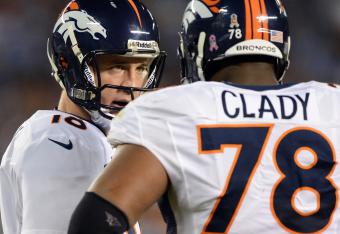 Harry How/Getty Images
Offensive linemen have one of the more unheralded jobs on the football field, but the left tackle gets twice the publicity of the other four linemen combined. Left tackles are valued higher in the draft and get paid more.
The NFL clearly values the blind side pass protector more than any other position on the offensive line. Conventional wisdom says you hang on to good left tackles and you pay them the premium that they demand.
This conventional wisdom says the Denver Broncos should hang on to free agent left tackle Ryan Clady by either giving him a long-term contract or using the franchise tag. That's probably what will happen, but considering the cost it makes sense to ask if he's worth it. The truth is, Clady is extremely valuable to the Broncos.
The value of any player is driven by a variety of factors, but it all comes back to supply and demand. Supply and demand are going to drive market rates for left tackles as much as it does coffee beans, and the key to being successful in the NFL is maximizing the impact of every dollar.