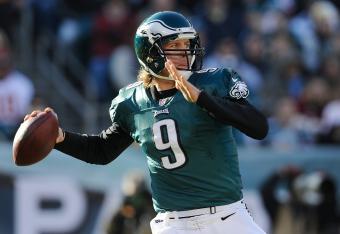 Patrick McDermott/Getty Images
Finding a quarterback is a bit like buying an engagement ring. There are thousands of options out there, but you need the ring that is going to seal the deal forever (10 years in NFL time). There are several ways to go about picking it out, but you have to get a decent one or you will get shot down and be out on the street.
If Matt Cassel is the nickel-plated cubic zirconia ring from the local warehouse store, then Tom Brady is that ring that comes in a blue box and costs as much as a car. The consensus seems to be that there are no blue-box rings available in the draft, so the Chiefs will have to get creative.
Now that Michael Vick has restructured his contract to stay in Philadelphia and Dennis Dixon has reunited with his former college head coach, Nick Foles could be expendable. Mike Garafolo of USA Today reports that the Chiefs are interested in Foles if he becomes available.
Foles would be the ring from a mall jewelry store that is capable of getting the job done, but at what cost? It's common knowledge that you pay more at the mall because of the high overhead and salespeople on commission.