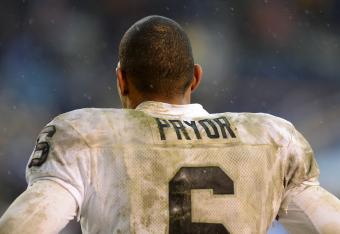 Jake Roth-USA TODAY Sports
The Oakland Raiders traded for Matt Flynn on Monday and shipped Carson Palmer to the desert on Tuesday, basically exchanging a veteran starter for an unproven player with two career starts. The trades were necessary from a monetary perspective, but they also have very real on-field consequences.
Bringing in Flynn to go along with Terrelle Pryor may indicate that the Raiders intend to have a real quarterback competition in 2013. However, bringing in Flynn could just as easily mean that the team doesn't believe Pryor can be a starter.
It's entirely possible the Raiders made it harder for Pryor to win the starting job by bringing in Flynn, but easier for him to get on the field and become the starter later in the season. One thing seems certain: The Raiders will use Pryor more even if he's not a starter.