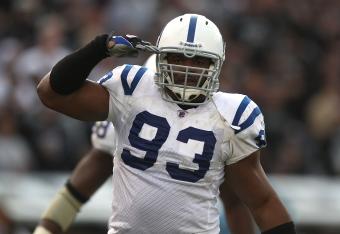 Jed Jacobsohn/Getty Images
One theory is that you can never have too many pass-rushers. That's probably what makes it so interesting that Peyton Manning reached out to Dwight Freeney and suggested that he join the Denver Broncos after he was released from the Colts.
Manning was probably kidding, and Freeney downplayed his fit with the Broncos to PFT Live by noting that the Broncos have a couple of good pass-rushers already. Despite the presence of Von Miller and Elvis Dumervil, it's an intriguing idea because the Broncos did play rookie Derek Wolfe—a defensive tackle—at defensive end last season.
The Broncos were also a bit one-dimensional and struggled to generate a pass rush when teams were able to slow down Miller, as was the case against the Baltimore Ravens in the playoffs. Adding another pass-rusher to the mix could certainly make the Broncos better, but would Freeney (or a player like him) be a good fit?
Part of the problem with bringing in Freeney is how it would negatively impact Miller. The Broncos use a variety of defensive fronts so they can utilize Miller as a pass-rusher. The most common defensive fronts the Broncos use are the four-man fronts, with Miller often serving as a stand-up defensive end or blitzing linebacker.