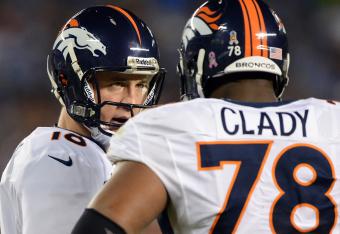 Ryan Clady is one of the best left tackles in the NFL, but do you need a great left tackle when you have a great quarterback?
Harry How/Getty Images
A franchise left tackle used to be vitally important to building a good football team. Maybe that's still true, but you wouldn't know it from looking at the number of good left tackles hitting free agency this year.
Sam Baker, Branden Albert, Jermon Bushrod and Jake Long will all be free agents. Some of these players didn't have a great year, but have in the past. Bryant McKinnie will also be a free agent as well as several good right tackles. The obvious question must be asked: Are franchise tackles as vital to success as they used to be, and should you pay top dollar to make sure you have one?
Considering the flood of left tackles to the market, you have to also wonder if the Broncos may want to re-think giving Ryan Clady the franchise tag. This is especially true since the quarterback for the next couple years will be Peyton Manning, who has thrived without a franchise left tackle for most of his career.
It seems like an easy decision to franchise Clady and try to sign him to a long-term deal to bring his cap number down. He's one of the best left tackles in football, he had a great year and he's fully healthy. He's also going to cost a lot of money. If he doesn't sign the most lucrative contract of all the free-agent tackles, it will be a surprise.