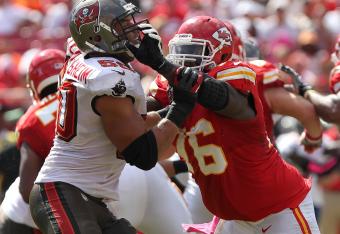 Branden Albert didn't have the best technique in 2012.
Kim Klement-USA TODAY Sports
There has been a lot of speculation about Branden Albert moving to guard or right tackle since he was given the franchise tag. Since the Kansas City Chiefs have their choice of left tackles in the 2013 NFL draft, it would make some sense to move Albert to another position.
There are problems with moving Albert—namely his resistance to any move—that may foil the Chiefs' plans. Albert either knows he's a good left tackle or he knows that his earning power will be significantly reduced if he changes positions—especially if the Chiefs don't offer him a long-term contract.
What the Chiefs end up doing with the No. 1 overall pick, Albert, and the rest offensive line boils down to one question: Is Branden Albert really an NFL left tackle?
What we are really asking here is if he's a good NFL left tackle. If Albert is a good left tackle, the Chiefs would have no reason to draft one. If Albert isn't a good left tackle, the Chiefs' plans to draft one wouldn't be hindered, although they probably shouldn't have put the franchise tag on him.