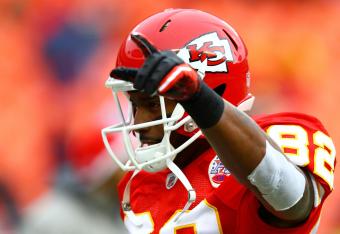 Dilip Vishwanat/Getty Images
The Kansas City Chiefs needed to retain wide receiver Dwayne Bowe this offseason and they accomplished that goal. Just before the deadline in March to apply the franchise tag, the Chiefs agreed with Bowe on a five-year, $56 million contract with $26 million guaranteed.
It was a win-win for both sides at the time; Bowe finally got his big pay day and the Chiefs retained their one and only proven weapon in the passing game. However, New York Giants wide receiver Victor Cruz received a six-year, $45.9 million contract with $15.6 million guaranteed according to Tom Pelissero of the USA Today, about $10 million less than Bowe in guaranteed money and overall.
People may question if Bowe is overpaid by comparison to Cruz, even though doing so is a bit like comparing peaches and nectarines—similarities exist, but they are very different.
Players are paid differently depending on their situations as much as their ability. Understanding the situations of the players and teams is important if we are going to understand why Bowe's contract averages $3.55 million more per year than Cruz's new contract.