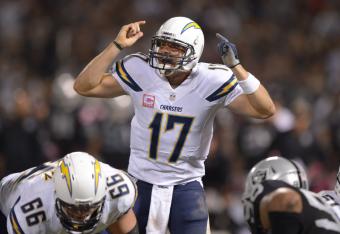 Kirby Lee-USA TODAY Sports
We knew Peyton Manning was great, but so far his 2013 season has been ridiculous even by his standards. There isn't a quarterback who can even come close in comparison to Manning right now, but while he is grabbing all the headlines, there is one quarterback who has been playing great football and deserves some recognition.
Many people wrote off San Diego Chargers quarterback Philip Rivers due to his struggles in 2011 and 2012. This is the same player that led the league in passing yards in 2010 and looked like he was going to be an elite quarterback for years to come.
Despite three interceptions on Sunday night against the Oakland Raiders, Rivers is still arguably having one of the best years of his career after two very lackluster seasons. Unlike Manning, Rivers isn't working with a stacked deck, so in many ways his performance this season is more impressive.
Rivers doesn't have a Demaryius Thomas, Eric Decker, Wes Welker or Julius Thomas. Rivers' top two receivers are backups, because the two starters are out for the season. Even if they were healthy, they aren't nearly as good as Denver's weapons. All Rivers has is Antonio Gates—still good, but clearly not in his prime.