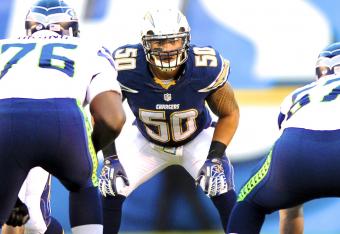 The league's most talked about second-round pick is about to make his debut for the San Diego Chargers. According to Kevin Acee of UT San Diego, inside linebacker Manti Te'o is on track to play Sunday against the Dallas Cowboys.
Te'o has been nursing a foot injury since the preseason, and his return couldn't come at a better time for the Chargers. San Diego's defense has been gouged for a league-worst 7.0 yards per play this season and has forced only one turnover.
Quarterback Philip Rivers is off to a great start, but it's not translating to wins because of the defense.
In theory, getting a projected defensive starter back from injury will help, but Te'o is also a rookie, so expecting a great performance on the stat sheet is probably too much to ask.