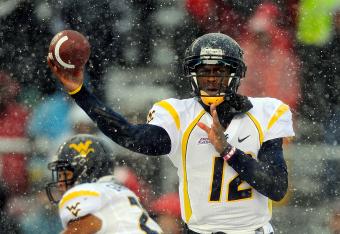 Patrick McDermott/Getty Images
Despite a roster loaded with talent, the Kansas City Chiefs could muster just two measly wins in 2012. No team in the NFL demonstrated how important it is to have a decent quarterback more than the Chiefs. Matt Cassel and Brady Quinn could only be described as awful quarterbacks in 2012.
It's no wonder teams cling to average quarterbacks. Once the production of the quarterback dips below a certain level, the entire team suffers. It's better to have an average quarterback than a terrible one, even though neither is going to lead the team to postseason success.
Geno Smith is absolutely worthy of the No. 1 overall pick, and he's the best option available to the Chiefs. Many quarterbacks can probably lift the Chiefs out of last place, but Smith is the only one available who could take them to the next level.
The Chiefs were unlucky; they were bad at the wrong time. There isn't an Andrew Luck or Cam Newton at the top of the draft, but finding the best possible quarterback is still the goal. If Alex Smith isn't going to be released or traded, and Nick Foles isn't going to be traded, there aren't a lot of options out there.