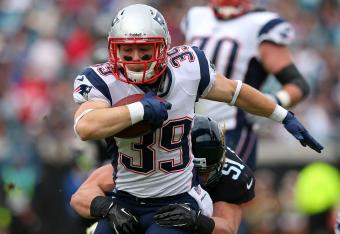 Mike Ehrmann/Getty Images
The San Diego Chargers put their faith in Ryan Mathews last season and got burned. Mathews couldn't stay on the field for several reasons, which didn't really have to do with his ability to gain yards. Mathews struggled with injuries, ball security and with his pass-blocking.
Since Mathews didn't run with his shot to be the every-down running back, the Chargers signed former New England Patriots running back Danny Woodhead to share the load. Woodhead brings to the table the skills that Mathews lacks. Woodhead is going to see significant offensive snaps, which will come at the expense of Mathews.
Despite losing snaps, the addition of Woodhead could actually be a very good thing for Mathews. Woodhead combined with Stevan Ridley in 2012 and BenJarvus Green-Ellis from 2010-2011 to form a complete backfield in New England, and he should do the same with Mathews in 2013.
There is such a thing as asking to do a player too much, and it's worth considering whether the Chargers were guilty of putting Mathews into a position to fail. With Woodhead in the fold, Mathews will only be asked to run the ball. Mathews isn't going to improve his ability to pick up blitzes if he hasn't already, so trying to get that out of him is just focusing on the wrong thing.