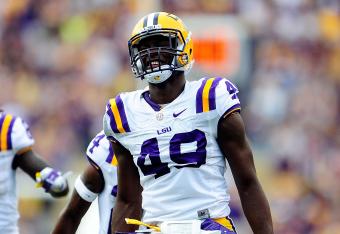 Stacy Revere/Getty Images
The Oakland Raiders need defensive players. There isn't a position on defense in Oakland that couldn't use an infusion of talent, but the need for a pass-rusher is the most glaring. A good pass rush helps the secondary and linebackers in coverage.
The Raiders are in luck because there is no shortage of pass-rushers in the 2013 NFL draft. Whether the Raiders trade down for more draft picks or keep their selection, there is likely to be a good pass-rusher available. One of the best in the class is LSU defensive end Barkevious Mingo.
Only one team had fewer sacks in 2012 than the Raiders. It's pretty clear that the Raiders need a pass-rusher, but not all pass-rushers are the same. Some pass-rushers have a quick first step and know how to use their hands and body to slip past their block, and others rely on their speed and bend to get around blockers.
When considering what kind of pass-rusher to draft, you have to consider what can and can't be taught. Jason Pierre-Paul was a very raw prospect and made it to the NFL and blossomed. Mingo has an abundance of traits that can't be taught, which makes him a very attractive college prospect.