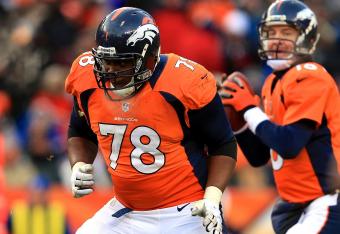 The Denver Broncos have survived their first two games without pass-rusher Von Miller and cornerback Champ Bailey on defense. In fact, the Broncos have been able to do a lot more than survive, in large part because Peyton Manning is their quarterback.
Without question, Manning is the most important asset in Denver. Keeping Manning healthy is paramount, which is why losing left tackle Ryan Clady to a Lisfranc foot sprain is a significant blow to the offense.
According to Mike Klis of The Denver Post, Clady is going on the season-ending IR.
While it certainly hurts the Broncos, that doesn't mean they will turn into the Jacksonville Jaguars without Clady. Manning is as good as there is at protecting himself, and there are a lot of different things the Broncos can do to help backup left tackle Chris Clark.