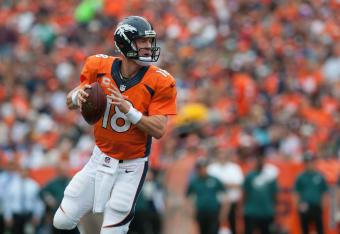 Peyton Manning is already one of the best quarterbacks in NFL history, but will he be a part of one of the best NFL teams in NFL history, too?
Dustin Bradford/Getty Images
Just about every franchise has a team that it believes is one of the greatest. Last year, NFL.com did bracket-style fan voting for the top 64 teams in NFL history, and the 1976 Oakland Raiders edged the 2000 Baltimore Ravens by less than one percent. There is no shortage of great teams throughout NFL history.
With 12 games to go in the regular season, it looks like the 2013 Denver Broncos are emerging as this year's great team and with a little luck, maybe one of the best ever. More than a few great teams have had a great season tarnished by a lackluster showing in the playoffs, but the historic start still puts the 2013 Denver Broncos in elite company.
Denver's defense needs to improve statistically to get there, but with linebacker Von Miller slated to return from a six-game suspension in two weeks and cornerback Champ Bailey close to returning from a foot injury, that's almost a guarantee.
Winning the Super Bowl automatically cements a team's status as one of the best ever, even though we all know that anything can happen in the playoffs, and great teams often don't get some of the recognition they deserve. Something could freeze over, a safety can let a deep pass fly over his head with just a minute to play for the game-tying touchdown and one of the greatest quarterbacks to ever play the game can throw an interception in overtime.