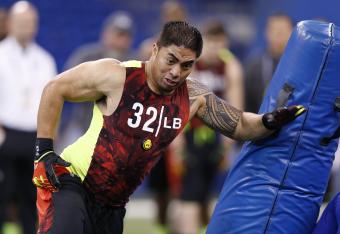 Manti Te'o?
Joe Robbins/Getty Images
The Denver Broncos had a tight grip on the AFC West last year, but the other three teams in the division are going to do everything they can to close that gap. If the Broncos want to win a Super Bowl, they need to address a few weaknesses that opponents are sure to find in the offseason.
While the best place to address a weakness is usually through the NFL draft, there's a good chance that the Broncos were playing extra close attention to the NFL combine. This is where teams get valuable medical information, baseline athletic testing and a chance to meet with 60 players.
Observations are made at the combine that impact the final draft board. The Broncos might drop players entirely off the draft board due to a medical concern, bump a player up because of a great interview or confirm their original scouting report. So what did we learn at the combine as it pertains to the Denver Broncos?