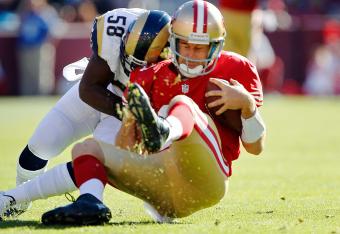 Brian Bahr/Getty Images
The Kansas City Chiefs finalized a deal to trade for Alex Smith on Wednesday, as first reported by Jay Glazer of Fox Sports. The compensation is reportedly the 34th pick in the upcoming draft and a 2014 pick that could also be a second-round pick depending on Smith's performance.
With the trade, the Chiefs have their quarterback. Its déjà vu all over again for Chiefs fans, as the team has traded for the 49ers quarterback several times before. The second-round pick the Chiefs will send to the 49ers is also the same exact pick the Chiefs sent to the Patriots for Matt Cassel and Mike Vrabel.
It's a horrible trade for the Chiefs. Not because Alex Smith is a horrible quarterback or there is a top-flight quarterback at the top of the draft or there are any better options available. It's a horrible trade because the Chiefs gave up a lot to get Smith—way too much for a quarterback of his caliber, that the 49ers probably weren't going to keep around.
It was a panic move, one the Chiefs didn't need to make just because they didn't like the quarterbacks in the draft. The Chiefs inherit Smith's contract and will probably have to give him a contract extension that will tie the new regime to him for at least the next three years. Smith is scheduled to make $10.75 million in 2013 if you include his roster bonus, according to spotrac.com.