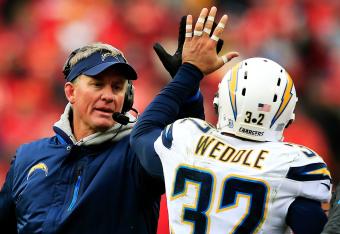 Mike McCoy's offense is fine, but he only had one good player on defense.
Jamie Squire/Getty Images
There are only a few words that can be used to describe the San Diego Chargers defense. On a typical Sunday, those words might also include a few expletives from the fans who so faithfully follow the team.
Needless to say, it's been a tough year for the defense in San Diego. When parsing the reasons for the team's 5-7 record, the defense deservedly gets the bulk of the blame.
Someone has to be accountable for the abominable defensive play because no poor performance in the NFL goes unpunished. But should it be the players or the coaches? It's obviously a bit of both, but determining how much of the blame goes around could factor into who has a job next season.
It's a lot easier to give the coaching a pass considering the major injuries to outside linebackers Melvin Ingram and Dwight Freeney. The team wasn't very good rushing the passer last season, and Ingram barely contributed.