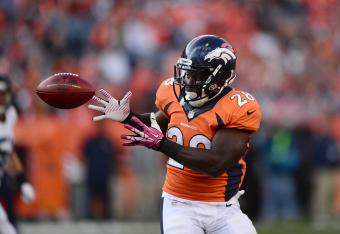 Ron Chenoy-USA TODAY Sports
The Denver Broncos have an amazing passing offense thanks to quarterback Peyton Manning, and it's almost a given that the offense is going to be great unless the temperature drops below freezing. Unfortunately for Manning and the Broncos, there's a good chance he will be playing outdoors in January in a cold-weather city.
If the Broncos are going to win it all this year, they are going to need the running game to pick up some of the slack. That means getting key contributions from at least one but probably two of the running backs on the roster.
The starter—Knowshon Moreno—is a solid running back, but there is a reason the Broncos drafted Montee Ball last April with their second-round pick. It's Ball that could be one of the many key players on the team over the next two months.
Last week, Ball was a key player in Denver's big win over the Chiefs, as he rushed for a career-high 117 yards on 13 carries. Every team that wins the Super Bowl gets big contributions from players who may have had smaller roles early in the season, so it's not insane to think Ball could be a big factor in Denver's Super Bowl run.