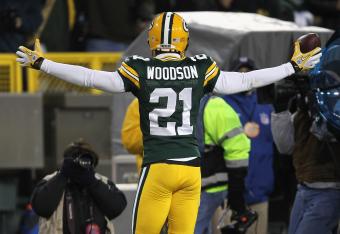 Jonathan Daniel/Getty Images
The Denver Broncos had Charles Woodson in for a visit, but couldn't come to an agreement with the 36-year-old defensive back. Woodson ended up visiting with the Oakland Raiders and signing a contract that is worth a maximum of $4.3 million, according nfl.com.
That seems like a lot of money for an older player in the twilight of his career, but the Broncos offered Woodson a seemingly comparable contract worth a maximum of $3.7 million, according to Mike Klis of the Denver Post. It certainly looks like Woodson chose money over the ability to play for a contender.
If the Broncos were serious about signing Woodson, they should have upped their offer before he visited the Raiders. It sure seems like the Broncos miscalculated Woodson's interest in returning to the Raiders and ended up losing a player they would have liked to add to their secondary.
Champ Bailey was on 102.3 FM in Denver on Tuesday and said there was "no freaking way" Woodson wanted to go to Oakland; he also called the visit a "negotiation tactic." Bailey's thoughts may or may not have echoed the sentiments of the organization.