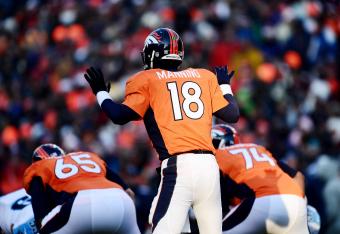 Ron Chenoy-USA TODAY Sports
About the only negatives about Denver Broncos quarterback Peyton Manning people have been able to come up with in his career are his performances in the playoffs and his struggles in cold-weather games. The criticisms are mostly fair, but they are also the kind that eat at Manning and motivate him to keep getting better—a scary thought.
In below-freezing temperatures in Denver on Sunday, Manning tossed four touchdowns in a 51-28 rout of the Tennessee Titans. Manning was 39-of-59 for 397 yards passing against a good, physical secondary.
Manning shut up the critics in a big way.
Arguably the best quarterback to ever play the game has probably been waiting to redeem himself since his performance in cold-weather games became a big story after last year's playoff loss against the Baltimore Ravens. The story was reignited two weeks ago in a cold-weather loss to the New England Patriots—a familiar Manning nemesis.