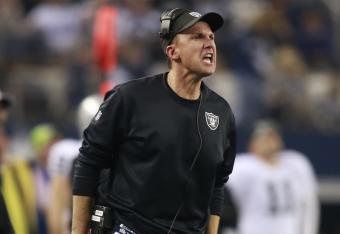 Dennis Allen could be on the hot seat if the Raiders lose their final four games.
Tim Heitman-USA TODAY Sports
The Oakland Raiders have held the lead at the half of seven games this season, but they have only won three of those games. The Raiders have crumbed in the second half, leading many to assume the coaches are doing a poor job of adjusting at halftime.
When the Raiders take the field Sunday in New York to play the Jets, there could be something at stake. How the Raiders finish over the final four games may determine if head coach Dennis Allen returns next season, and winning would elevate Oakland's record to a somewhat safer 5-8.
With three tough division games over the final three weeks, the Raiders might not get a better chance to close out a game and avoid finishing the season on a six-game losing streak than this week against the Jets. If the Raiders can't get a win this week, Allen's job could be in serious trouble.
As successful as Allen has been at changing the culture in Oakland, it has yet to translate into more wins. While there may be extenuating circumstances for Oakland's poor season, Allen still needs every win he can get.