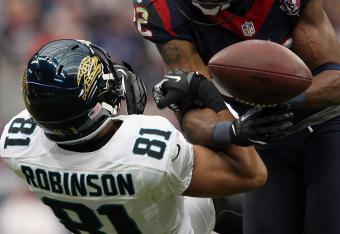 Big hits to the head could shorten Robinson's career.
Troy Taormina-USA TODAY Sports
The plague of head injuries that threatens the future of the NFL may claim its second Jacksonville Jaguar in a year.
Andrea Kramer of the NFL network interviewed Laurent Robinson, who suffered multiple concussions in 2012 and is now pondering retirement.
Not long after Clint Session's tenure with the Jags was cut short due to the lingering effects of head injuries, Robinson is now questioning his future as well.
Four separate concussions in less than a season have left Robinson unable to fully function in his day-to-day life and have lead him have to face the prospect of retirement.