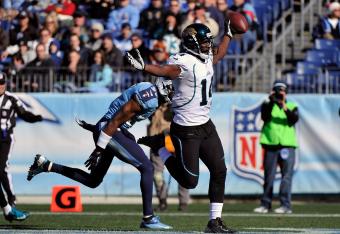 Blackmon had some highlights in his rookie year.
Frederick Breedon/Getty Images
The Jacksonville Jaguars finished with the worst record in the NFL, and general manager Gene Smith was fired as a result.
Part of the reason that he was fired was for poor draft performance. It's only been a year, but how did his final draft pan out?
Immediately after the draft last year, I gave the Jags a "B," largely docking them for the third-round pick of Bryan Anger.
Here is a look at the six players that were drafted last season. Some lived up to expectations, and others did not. Let's take a look at each pick to see which side of the spectrum each rookie fell on this season.