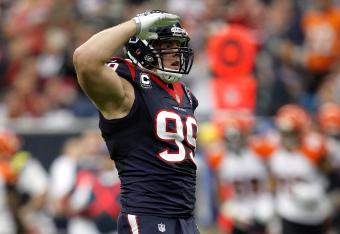 A salute to Arrested Development and Watt.
Bob Levey/Getty Images
Welcome back to the Bluths Explain Football, a completely unnecessary series in which the cast of Arrested Development gives you insight into the AFC South.
The Bluths have been on hiatus during the regular season because there were actual games to discuss, but now they have returned with a vengeance.
Today's episode is "Justice is Blind." Let's see what it can teach us about the Houston Texans' 2012 season.
Plot Summary
Michael confesses to Maggie that he is not, in fact, Chareth Cutestory, but a member of the Bluth family. Later he discovers that she can see, but her seeing-eye-dog is blind.