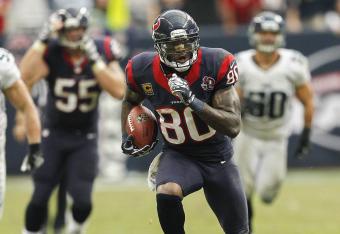 Johnson often finds himself alone.
Bob Levey/Getty Images
Though controversial before the season, it's now a generally accepted fact that the Houston Texans had a serious problem at wide receiver in 2012.
This week's advanced stat of the week will help illustrate just how bad things were.
Yards per target (YPT) is a player-specific derivative of the single most important stat in football: yards per attempt (YPA). There is no number more important for evaluating an offense or a defense than measuring yards per attempt.
YPT is just YPA isolated to a particular wide receiver. To calculate it, simply divide a player's receiving yards by his total number of "targets." As I discussed when looking at catch rate, knowing how often a player was thrown to matters when evaluating his overall play.