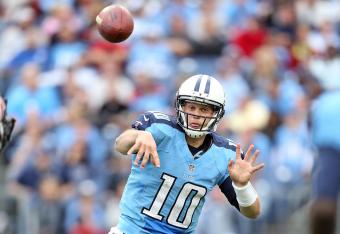 Locker has to be a more effective passer.
Andy Lyons/Getty Images
How a much a team needs to throw to score can say a lot about it.
The Titans relied heavily on the pass with Jake Locker under center.
Points per attempt (PPA) is not a commonly used stat, but is an interesting concept posted by Texans FC Jeffery Roy in a previous article.
The idea is to divide a team's offensive points scored (excluding defensive and special teams scores) and divide that by the number of passing attempts plus sacks. The stat really should be called PPDB (points per dropback), but let's keep it simple, shall we?