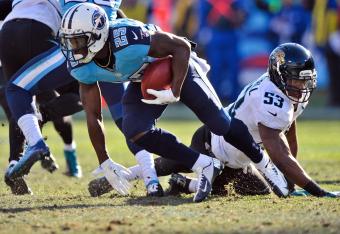 Darius Reynaud spins out of a tackle en route to one of two return touchdowns.
USA TODAY Sports
Throw out the records when the Tennessee Titans and Jacksonville Jaguars get together.
No seriously, please throw out the records.
The Titans rode four return touchdowns to a lackluster 38-20 victory over the Jaguars to close the 2012 season.
Titans head coach Mike Munchak possibly helped save his job with the victory to raise their record to 6-10 on the season, though many doubted his position was ever in doubt.